Itgirls
LONG TIME NO TALK. Here's what's happened since last spring: Rookie Yearbook Two is out!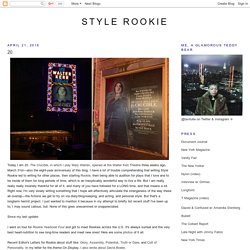 k a t e l o v e s m e: It girls
Así las llaman a ellas, chicas como tú y como tu vecina, pero con un quelque chose de supplémentaire que las hace únicas. Escuchan a las bandas de las que todavía no se ha oído hablar, visten de diseñadores cuyos nombres no sabes pronunciar y bailan en fiestas en las que tendrías que hacer cola durante años. Gala Gonzalez, para mí Ga, para tí Lady Gala, es nuestra españolita más internacional afincada en Londres.
Kate Moss, Cheryl Cole, Vivienne Westwood and Victoria Beckham in Most Influential List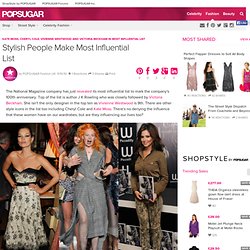 The National Magazine company has just revealed its most influential list to mark the company's 100th anniversary. Top of the list is author J K Rowling who was closely followed by Victoria Beckham. She isn't the only designer in the top ten as Vivienne Westwood is 9th. There are other style icons in the list too including Cheryl Cole and Kate Moss.
No es necesario elaborar una encuesta: date una vuelta por el barrio y lo verás claramente. Sara Carbonero, Angy Fernández, Letizia Ortiz o Ana Obregón influyen sobre pijas, neopijas e incluso siniestras. Inspirada por una lista con las celebrities que más influyen en el vestir de los británicos, he pensado elaborar una propia con los famosos patrios que más nos influyen a los españoles medios. No hace falta elaborar una compleja encuesta con Demoscopia entre distintas franjas de población sino darte un paseo por el metro en hora punta. Y, salvo excepciones, las influencias quedan bastante claras -obviando, claro, la estética que verdaderamente domina el cotarro, que es la de ' Mujeres y hombres y viceversa-.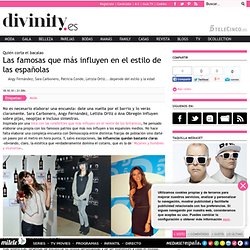 Las famosas que más influyen en el estilo de las españolas , Divinity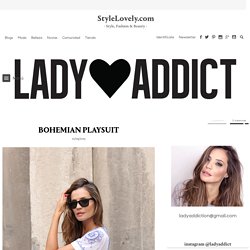 lady addict
Es relativamente fácil encontrar interiores interesantes en casas grandes pero hoy nos colamos en el interior de un piso cuya decoración podría resultar todo un reto. ¿Cómo hacer 34 metros cuadrados parecer lo más espacioso posible? OOs dejo con algunas imágenes de la casa a ver si cogéis alguna idea ;-) ¡Feliz domingo!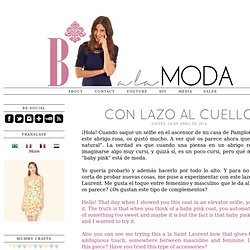 ¡Hola! Hoy os quiero hacer una reflexión sobre los pantalones de vestir. Mirad que he intentado veces hacerme con pantalones de estos de pinzas y más arreglados, y qué pocas veces he salido airosa del intento.
my daily style
I do love grey tees, printed jeans and ethnic bags. Here you have a look with all of them! This soft and light tee from Free People is amazing. Sometimes it's worth spending a little bit more for better-quality products. Do you like my Tuesday look?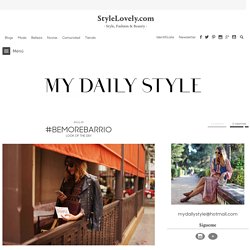 (Photo Source: All photos thanks to TheFashionSpot) With musician Lenny Kravitz and actress Lisa Bonnet as her parents, raven haired Zoe Kravitz was born with rock n' roll and effortless fashion sense flowing through her veins. With a mix of grungy rocker chic style and a hint of fairytale boho, this chick makes fashion fun and feisty- yet still refreshingly understated and chic. Want to know how to get style like Zoe's? Read on for tips and outfits to help you recreate her look.
Fresh Fashion Icon: Zoe Kravitz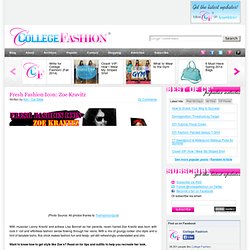 Las "It Girls", marcadoras de tendencias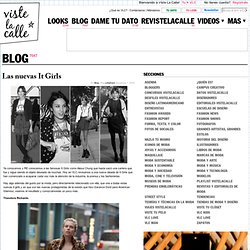 Las nuevas It Girls | Viste la Calle
Ya conocemos y RE conocemos a las famosas It Girls como Alexa Chung que hasta sacó una cartera que fue y sigue siendo el objeto deseado de muchas. Hoy en VLC revisamos a una nueva oleada de It Girls que han comenzado a acaparar cada vez más la atención de la industria, la prensa y los fashionistas. Hay algo además del gusto por la moda, pero directamente relacionado con ella, que une a todas estas nuevas it girls y es que son las nuevas protagonistas de la sesión que hizo Garance Doré para American Glamour, veamos el resultado y conozcámoslas un poco más. Theodora Richards