Hipsters
Hipsters Los hipsters son una subcultura de mujeres y hombres que están típicamente entre los 20 y 30 años y se caracterizan por tener un pensamiento independiente, se consideran contra la cultura normal, progresivos con la política y aprecian el arte, la buena música, la inteligencia, la creatividad y el cine independiente. En España se les llama Gafapastas porque muchas veces usan lentes de pasta como parte de su forma de vestir.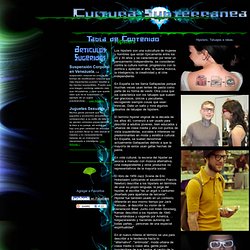 CULTURA SUBTERRANEA
Universitarios: La moda hipster
Being a Dickhead's cool..
"Los primeros en posicionarse contra la moda y lo moderno son Voltaire y Rousseau. Dicen que la moda es mala porque hace que los pobres parezcan ricos y los hombres se comporten como mujeres. Ser moderno no es solo una opción estética, es una manera de subvertir los códigos de clase y género. Las mofas hacia los modernos no son solo burlas a un estilo, sino hacia cambios de posición social".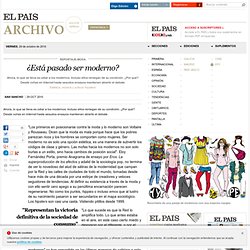 ¿Está pasado ser moderno? · ELPAÍS.com
Pitchfork: Home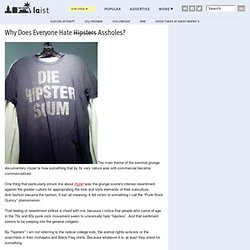 The main theme of the seminal grunge documentary Hype! is how something that by its very nature was anti-commercial became commercialized. One thing that particularly struck me about Hype!
Why Does Everyone Hate Hipsters Assholes? - LAist
Illustration Credit: Jesse Philips Has the hipster killed cool in New York? Did it die the day Wes Anderson proved too precious for his own good, or was it when Chlo Sevigny fellated Vincent Gallo onscreen?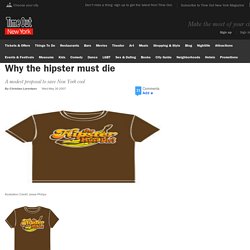 Why the hipster must die - This week in New York - Time Out New York
Auge y decadencia del 'hipster' | Cultura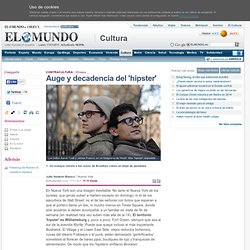 En Nueva York son una imagen inevitable. No tanto el Nueva York de los turistas, que jamás suben a Harlem excepto en domingo, ni el de los ejecutivos de Wall Street; no el de las señoras con botox que esperan a que el portero llame un taxi, ni mucho menos en Times Square, donde sólo acudirán si deben acompañar a un familiar en visita de fin de semana (en realidad rara vez suben más allá de la 14). El territorio 'hipster' es Williamsburg y, poco a poco, Fort Green, siempre que sea al sur de la avenida Myrtle.
"Un moderno español es alguien que ha copiado algo a alguien que a su vez lo copió a otra persona, pero dos años antes aproximadamente" (Joaquín Reyes). "Nos vestíamos con ropa de verdad, no como putos mecánicos, que era el uniforme oficial de las bandas de la movida. Cada vez que bajábamos a Madrid nos partíamos el culo con lo que llevaban. '¿Dónde habéis comprado eso?', preguntaban. Putos pringaos.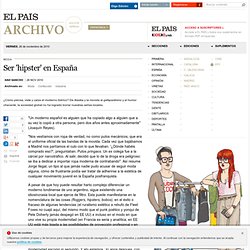 Ser 'hipster' en España · ELPAÍS.com
Hipster Barcelona | Flickr: Intercambio de fotos
It seems that recently everyone I know has decided to go to Barcelona, Spain. I went a couple of years ago, so I'm deciding to just put all my tips about the great city all in one place for everyone to read. (Feel free to add your picks in the comments.) Check it out: HOTELS A hotel I really wanted to stay in was the Hotel Banys Oriental.
Hipster, Scenester Barcelona : The Modern Age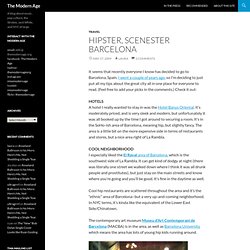 hipster1.jpg (1229×838)
The Hipster Handbook
Look at this fucking hipster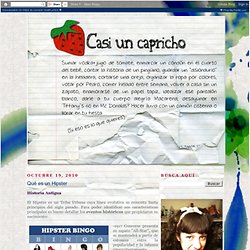 El Hipster es un Tribu Urbana cuya línea evolutiva se remonta hasta principios del siglo pasado. Para poder identificar sus características principales es bueno detallar los eventos históricos que propiciaron su nacimiento: -1917 Converse presenta su zapato "All-Star", que se mantendrá a partir de entonces entre la popularidad y la infamia intermitentemente. -1944 Aparece por primera vez la palabra Hipster en un glosario de términos que acompaña al album de jazz de Harry Gibson Boogie Woogie in Blue.
Qué es un Hipster
Hipsters couldn't incite more blind hatred if they were all ginger-haired Al-Qaeda members. But why? Could it be their taste in music?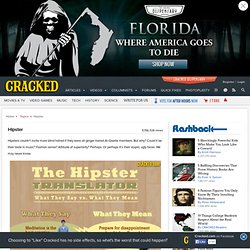 Hipster