Crowdsourcing
DesignByMe : Home
Está claro que el deseo y, sobre todo, la posibilidad de participación de los usuarios en la web social ha modificado el cómo las empresas se relacionan con sus diferentes públicos. Pero esa relación, en el camino hacia la empresa realmente abierta e integradora de plataformas sociales, adquiere su máximo exponente en el momento en que el usuario tiene la posibilidad de participar en la decisión, en la generación de contenido, en la co-creación de productos o el lanzamiento y prueba de los mismos, en la cadena de valor de la compañía, etc. En una participación real que va mucho más allá del concurso en redes sociales o de la utilización de servicios de redes sociales, como pueden ser un reply en Twitter o un mensaje en el muro de Facebook de la empresa X. Se trata de un verdadero cambio de comportamiento y de filosofía de la empresa como ente social y verdadero motor hacia una economía abierta y sostenible.
Crowdsourcing y co-creación: ¿cómo generar valor gracias al cliente?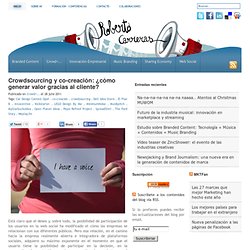 Collaborating with us | Unilever Global
Simplicity - Share Your Ideas - Review Ideas
There's something happening here at Ford. It's new.
App My Ride
Originally a novella by the godfather of horror H.P. Lovecraft, 'Dream-Quest of Unknown Kadath' has received a modern update courtesy of journalist and amateur illustrator Jason Thompson. There's only one problem: a complete run of printed comics is a steep investment, though you could help solve that issue.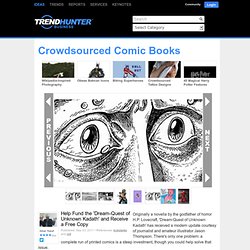 Crowdsourced Comic Books - Help Fund the 'Dream-Quest of Unknown Kadath' and Receive a Free Copy
El tablón de Tupply y sus mil anuncios son el mercado que une oferta y demanda de forma natural y social
El SETI consigue fondos para reactivar el radiotelescopio ATA mediante crowdsourcing — ALT1040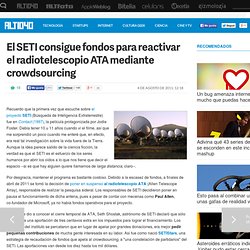 Recuerdo que la primera vez que escuche sobre el proyecto SETI (Búsqueda de Inteligencia Extraterrestre) fue en Contact (1997) , la película protagonizada por Jodie Foster. Debía tener 10 u 11 años cuando vi el filme, así que me sorprendió un poco cuando me enteré que, en efecto, era real tal investigación sobre la vida fuera de la Tierra. Aunque la idea parece salido de la ciencia ficción, la verdad es que el SETI es el esfuerzo de los seres humanos por abrir los oídos a lo que nos tiene que decir el espacio --si es que hay alguien quiere llamarnos de larga distancia , claro--. Por desgracia, mantener el programa es bastante costoso. Debido a la escasez de fondos, a finales de abril de 2011 se tomó la decisión de poner en suspenso al radiotelescopio ATA (Allen Telescope Array), responsable de realizar la pesquisa sideral.
Dolors Reig: "El conocimiento compartido también es poder"
¡Vaya! Parece que has llegado al callejón trasero de Yorokobu. Como aquí sólo llegan los niños y niñas que se han perdido, te sugerimos que vuelvas a la página principal, que pulses el botón 'Atrás' de tu navegador, que bucees por el archivo para ver si encuentras algo que te interese o que utilices el buscador para intentar encontrar lo que buscas.