Crowdsourcing
DesignByMe : Home
The original Design byMe vision was for a unique customization service, where consumers could design whatever they imagined on their computer, and buy the real model in their own LEGO box. Design byMe attracted several million people each year to build a huge range of amazing creations using the LEGO Digital Designer (LDD) software. Despite this success, the overall Design byMe experience has struggled to live up to the quality standards for a LEGO service. As a result, the LEGO® Design byME service was closed in January 2012. Where did my models go?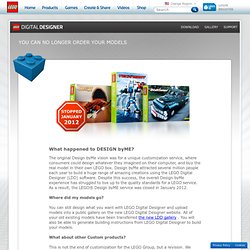 Está claro que el deseo y, sobre todo, la posibilidad de participación de los usuarios en la web social ha modificado el cómo las empresas se relacionan con sus diferentes públicos. Pero esa relación, en el camino hacia la empresa realmente abierta e integradora de plataformas sociales, adquiere su máximo exponente en el momento en que el usuario tiene la posibilidad de participar en la decisión, en la generación de contenido, en la co-creación de productos o el lanzamiento y prueba de los mismos, en la cadena de valor de la compañía, etc. En una participación real que va mucho más allá del concurso en redes sociales o de la utilización de servicios de redes sociales, como pueden ser un reply en Twitter o un mensaje en el muro de Facebook de la empresa X. Se trata de un verdadero cambio de comportamiento y de filosofía de la empresa como ente social y verdadero motor hacia una economía abierta y sostenible.
Crowdsourcing y co-creación: ¿cómo generar valor gracias al cliente?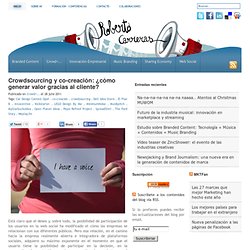 Collaborating with us | Unilever Global
There's something happening here at Ford. It's new.
App My Ride
Originally a novella by the godfather of horror H.P. Lovecraft, 'Dream-Quest of Unknown Kadath' has received a modern update courtesy of journalist and amateur illustrator Jason Thompson. There's only one problem: a complete run of printed comics is a steep investment, though you could help solve that issue.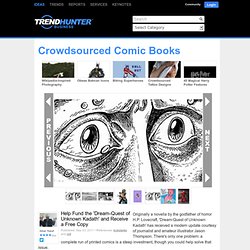 Crowdsourced Comic Books - Help Fund the 'Dream-Quest of Unknown Kadath' and Receive a Free Copy
El tablón de Tupply y sus mil anuncios son el mercado que une oferta y demanda de forma natural y social
El SETI consigue fondos para reactivar el radiotelescopio ATA mediante crowdsourcing — ALT1040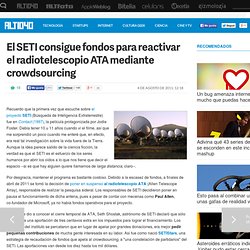 Por desgracia, mantener el programa es bastante costoso. Debido a la escasez de fondos, a finales de abril de 2011 se tomó la decisión de poner en suspenso al radiotelescopio ATA (Allen Telescope Array), responsable de realizar la pesquisa sideral. Los responsables de SETI decidieron poner en pausa el funcionamiento de dicha antena, pues a pesar de contar con mecenas como Paul Allen, co-fundador de Microsoft, ya no había fondos operativos para el proyecto. Cuando se dio a conocer el cierre temporal de ATA, Seth Shostak, astrónomo de SETI declaró que sólo se requería una aportación de tres centavos extra en los impuestos para lograr el financiamiento. Los científicos del instituto se percataron que en lugar de apelar por grandes donaciones, era mejor pedir pequeñas contribuciones de mucha gente interesada en su labor.