Rww profiles
I never loved Pearltrees until the iPad app was born!
Tutorial articles
How CloudFlare Aims to Save the Future of the Internet, With an Amazon-Style Technology Roll Out, for Free. Baby trashes bar in Las Palmas One year ago a distributed DNS and content delivery network startup called CloudFlare launched at a TechCrunch event.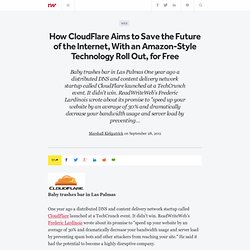 It didn't win. ReadWriteWeb's Frederic Lardinois wrote about its promise to "speed up your website by an average of 30% and dramatically decrease your bandwidth usage and server load by preventing spam bots and other attackers from reaching your site. " He said it had the potential to become a highly disruptive company. One year later, CloudFlare now says it serves up 15 billion web pages every month to 350 million people. The Incredible Engagement Feedback Loops of Startup Loving TV Host Shira Lazar. You could say that Shira Lazar lives by the sword and dies by the sword, but these days media mavens like Lazar can create safety nets by engaging internet audiences with the same tools that sometimes get them in trouble.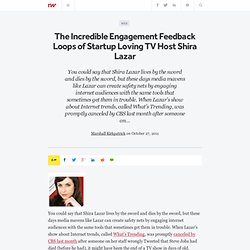 When Lazar's show about Internet trends, called What's Trending, was promptly canceled by CBS last month after someone on her staff wrongly Tweeted that Steve Jobs had died (before he had), it might have been the end of a TV show in days of old. What's Trending has built its own audience online though and a faux pas that would have axed the connection between a content producer and its audience in the past is now not such a game ender when media pros can build direct connections without complete reliance on major distribution deals. Now that the What's Trending team is on its own again, it's taking dramatic steps to build and deepen that audience by juggling a dazzling assortment of new media tools simultaneously. All while streaming live to thousands of people online.
The Incredible Story of Scott Kveton: Linux, Firefox, Bacon & iPhones. Geekdom may be a land of big personalities, but some peoples' stories are better known than others.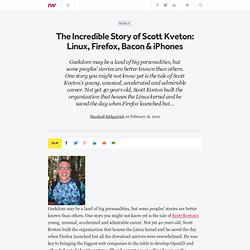 One story you might not know yet is the tale of Scott Kveton's young, unusual, accelerated and admirable career. Not yet 40 years old, Scott Kveton built the organization that houses the Linux kernel and he saved the day when Firefox launched but all the download mirrors were overwhelmed. He was key to bringing the biggest web companies to the table to develop OpenID and other federated identity systems. Then he spent a year selling bacon on the internet, until flipping bacn.com to an acquirer and signing a deal to write a book about lightweight, agile startups. Kveton is a dynamic, intelligent, skilled and flawed human being who is creating a very interesting life story for himself. PowerOne: This iPhone App Builds iPhone Apps. Elia Freedman used to have it made.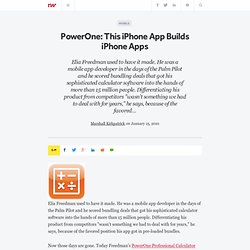 He was a mobile app developer in the days of the Palm Pilot and he scored bundling deals that got his sophisticated calculator software into the hands of more than 15 million people. Differentiating his product from competitors "wasn't something we had to deal with for years," he says, because of the favored position his app got in pre-loaded bundles. Now those days are gone. Google Hires Twitter-Hacking PARC Scientist.
Does Google get social?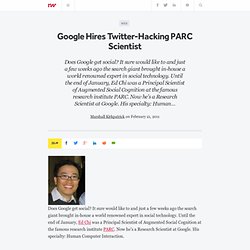 It sure would like to and just a few weeks ago the search giant brought in-house a world renowned expert in social technology. Until the end of January, Ed Chi was a Principal Scientist of Augmented Social Cognition at the famous research institute PARC. Now he's a Research Scientist at Google. His specialty: Human Computer Interaction. Google Hires Social Software Researcher Brynn Evans. Former PARC visiting social software researcher and startup trobairitz Brynn Evans announced today that she has joined the social product group of the UX design team at Google.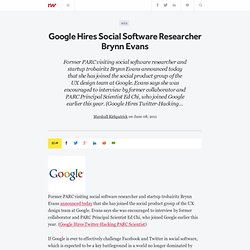 Evans says she was encouraged to interview by former collaborator and PARC Principal Scientist Ed Chi, who joined Google earlier this year. (Google Hires Twitter-Hacking PARC Scientist) If Google is ever to effectively challenge Facebook and Twitter in social software, which is expected to be a key battleground in a world no longer dominated by atomized search experiences online, then hiring leading thinkers could be an important part of the company's strategy. Evans has been a frequent guest contributor to ReadWriteWeb, having published thoughtful articles here including: Trained as a cognitive scientist at Stanford and UC San Diego, Evans joins a growing list of prominent hires by Google in recent months that will at the very least complicate the common saying that "Google doesn't get social software.
" The Women Who Made Google Plus: 22 Developers Behind the World's Fastest Growing Social Network. Today is Ada Lovelace Day, a day dedicated to celebrating the world's first computer programmer and to share inspiring stories about women working in science, technology and math.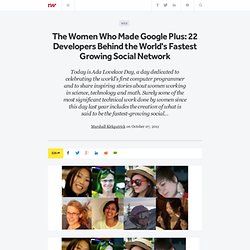 Surely some of the most significant technical work done by women since this day last year includes the creation of what is said to be the fastest-growing social network in history, Google Plus. Launched on June 28th and just opened to the public at large late last month, Google Plus is a feature-rich social network with variable privacy and sharing settings at the core of its experience. Who were the women involved in building such a big, important technology? We asked, on Google Plus, and were told about twenty two of them profiled below. Fancy Hands: Virtual Assistants, Aardvark Style. "It's not about the value of the task, it's about the value of me not having to do it, or even think about it anymore.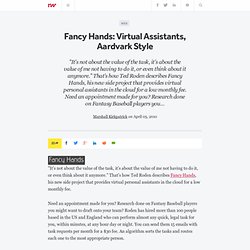 " That's how Ted Roden describes Fancy Hands, his new side project that provides virtual personal assistants in the cloud for a low monthly fee. Need an appointment made for you? Techmeme's New Editor: An Interview with Megan McCarthy. Techmeme is a semi-automated site that tracks the hottest conversations among tech blogs each day, with updates every five minutes.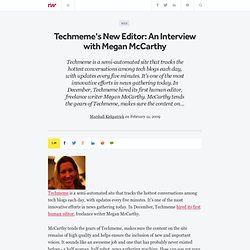 It's one of the most innovative efforts in news gathering today. In December, Techmeme hired its first human editor, freelance writer Megan McCarthy. Facebook's Mysterious Hire: The Guy Who Designed Much of the iPhone. Facebook announced today that it has acquired a startup called Push Pop Press and most of the media coverage of the news has focused on Push Pop's dazzling e-book technology for clients including Al Gore.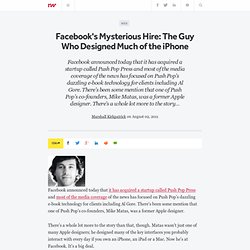 There's been some mention that one of Push Pop's co-founders, Mike Matas, was a former Apple designer. There's a whole lot more to the story than that, though. My6Sense & The Geek Who Rode His Blog to the Edge of the World. Personalized news recommendations on the go - that's the dream of many an online news nerd and the startups that would serve them. One strong entrant into this field is My6Sense, a well-designed, venture-backed, Israeli company that uses implicit behavioral data from users to recommend the most relevant content in your personal river of news.
It's a good service, and one you're likely to hear a lot more about soon. The company will announce this week that it has hired Louis Gray, a self-made Silicon Valley internet celebrity and startup consultant, as its VP of Marketing and first US employee. The Good Stuff Machine Using My6Sense is easy. Microsoft Makes Key Hire in Researcher Danah Boyd. Microsoft Research has hired social network researcher danah boyd, probably the most high profile academic in the world focused on the emerging web and its social consequences.
Who is danah boyd? (She spells her own name with lower case letters.) You may have seen her when she hit the international spotlight for writing about the shift from MySpace to Facebook. She wrote that her research leads her to conclude that "The goodie two shoes, jocks, athletes, or other 'good' kids are now going to Facebook. ...MySpace is still home for Latino/Hispanic teens, immigrant teens, 'burnouts,' 'alternative kids,' 'art fags,' punks, emos, goths, gangstas, queer kids, and other kids who didn't play into the dominant high school popularity paradigm. " History's Longest Imprisoned Blogger, Kareem Amer, is Free. The man believed to have been imprisoned longer than anyone else in the world for the contents of a blog, Egyptian Abdul Kareem Nabeel Suleiman, has been released after four years and 10 days of detention, his supporters have announced on their blog.
Suleiman, who blogged under the name Kareem Amer, was sentenced in 2006 to four years of jail for insulting religion and the leadership of Egypt on his blog. He was critical of, among other things, Egypt's treatment of women and of its Coptic Christian minority. Supporters report that during those four years, Amer was tortured, beaten, attacked by other prisoners, disowned by his family and had his books, letters and personal effects taken away. How Chris Messina Got a Job at Google. Chris Messina grew up in New Hampshire, the Live Free or Die state. As a high-schooler in the early 90's he held his school's website hostage after being suspended for running an ad on it for a controversial gay rights group.
Now Chris is nearing 30, today was his 29th birthday, and he just announced that he's taken a job at one of the biggest, most powerful corporations in the world. The latest chapter in the fascinating story of Chris Messina's life ends with one of the most high-profile young proponents of an Open and Distributed Web joining Google, a company that aims to organize all the information in the world and a behemoth that many free spirits online eye with ambivalence. What will the future bring for Messina and his work? Man Writes Software, Blogs About it, Makes $100k in 5 Months. We love this story. Back in July we wrote about the inspiring experience of Peldi Guilizzoni, a lone software developer who'd built a web design mock-up tool called Balsamiq and who was opening up his financial records on his blog to show everyone how things were going. We'd been following his progress since before he launched, but just 6 weeks after Balsamiq hit the market at roughly $79 per license, we wrote that Peldi had already made $10k in revenue.
That was a cute story, but now it's been just 5 months and today Peldi reports that he's just cleared $100,000 in sales of the four variations of his product. How Tim O'Reilly Aims to Change Government. Expert Labs: Can an Outside Incubator Turn Government Tech-Savvy? 10 Interesting Details About Twitter's Mysterious CTO. MrBabyMan: Digg Users Revolt, Against the One Pure Man at the Top. The Man Who Made Gmail Says Real-Time Conversation is What's Next. Thoughts From the Man Who Would Sell The World, Nicely.
The Man Who Looked Into Facebook's Soul. What Does it Mean to Make 5 Million Maps? Platial's Legacy.
---