Read already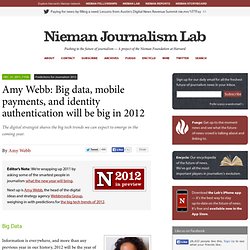 Big Data Information is everywhere, and more than any previous year in our history, 2012 will be the year of data. We're recording our daily activity with BodyMedia arm bands and syncing our biometrics with our Android phones. Hacker-journalists are converting huge datasets for use by everyday newsroom reporters.
Amy Webb: Big data, mobile payments, and identity authentication will be big in 2012
Why I'm treating startups more critically lately I've noticed that lately I'm treating startups much more critically. Today I chewed into an entrepreneur who was pitching me a new thing that was sort of like Oink, or maybe it was Foursquare, or maybe it was Foodspotting. It's the third company I've told off lately. I figured it was worth talking about why I'm being so harsh behind closed doors to entrepreneurs lately.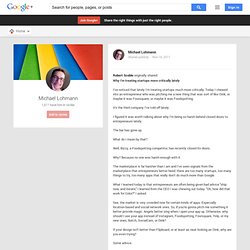 (3) Google
November 15, 2011: [Follow Me on Twitter] "In a brand new direction A change of perception On a brand new trajection" - UB40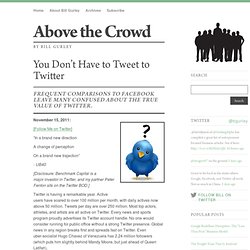 You Don't Have to Tweet to Twitter