anglais
Get flash to fully experience Pearltrees
This is a question that has plagued the designers, players, and those interested in them since the start. I won't mislead you, there is no exact definition.
So, since I continue to be an open-source kinda guy where Alternate Reality Games are concerned, here are (apparently) the simple steps to building an ARG, to save everyone the trouble of re-inventing the wheel every time:
ANNOUNCEMENTS Firstly, there are ARG community sites that announce forthcoming and current ARGs: Alternate Reality Gaming Network : announcements & articles about ARGs UnFiction UnForums : where just about all ARGs are announced, played & discussed ARGNetcast : ARG community podcast featuring announcements, discussions & interviews ARG Reporter : ARG announcements & wiki for Germany ARG Fan : ARG site in Japan Brazilian Alternate Reality Game community in Orkut ARG Brasil : Brazilian Alternate Reality Game community wiki
Q: What is the difference between an Alternate Reality Game and a Virtual World or MMORPG?
Mal Jones, illustrator for the National Zoo's ARG, Save the Pygmy Dragon Panda , was kind enough to talk with the ARGs in Education team about his work. Mal described the ARG as an "activity that gets the kid through the zoo and gets them to understand how research happens and how exhibits are made--from beginning to end, how a zoo works".
So, you've discovered the world of Alternate Reality Gaming and are completely confused by it all.
Alternate Reality Games (ARGs) tell stories through narrative elements that are distributed across various platforms. These game variables are carefully concealed from players until appropriate moments determined by the game designer(s). Game play involves players working collaboratively through email, phone/sms contact, real-time interactions and extensive online engagement.
Alternate reality games are a modern genre of games involving various media to tell stories, often accompanied with puzzles. Most of these games are either independently run, used as a corporate model, or used as a viral campaign by a company. [ edit ] Before 2001: Influences and precursors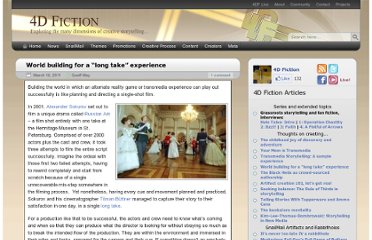 Building the world in which an alternate reality game or transmedia experience can play out successfully is like planning and directing a single-shot film. In 2001, Alexander Sokurov set out to film a unique drama called Russian Ark – a film shot entirely with one take at the Hermitage Museum in St. Petersburg.
Image courtesy of John Mark Josling My visit to South by Southwest Interactive took me to a lot of talks on Transmedia – a term, by the way, that was the most overused and under-understood of the conference (Felicia Day even went on a particularly apt rant about it on Monday). Most of the "Transmedia" panels just didn't seem to get it – there was no takeaway, there was a lot of gobbeldygook, and in one bizarre case, there was a futurist who seemed to be discussing how in 6-10 years we will all be watching programmed television.
One of the greatest challenges in transmedia game development is crafting a believable story universe that persists across multiple media without tricking or endangering the game's players.
DOCUMENTATION & BUDGETING ARGs are fairly unconventional because they usually employ a vast array of media channels and points of entry for players.