Nature conservation UK
Green Housing. Green Economy & Value of Nature. Pembroke options. Soilscapes. This section describes the natural lime status and the 'reaction' of the whole soil - whether it is naturally acid or alkaline.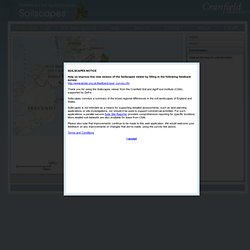 Soils of very low natural fertility are very acid, have low numbers of soil-living organisms and support heathland and acid woodland habitats. Soils of low natural fertility are associated with a wide range of habitat types and are usually acid in reaction. The moderate class contains neutral to slightly acid soils, again with a wide range of potential habitats.
Artificial liming of farmland reduces natural soil acidity. Pembrokeshire Coast National Park - Home. British Geological Survey (BGS) | A world-leading geoscience centre. RIVER BASIN MANAGEMENT. Home. British Ecological Society - Advancing ecology and making it count. Millennium Ecosystem Assessment. Home of TEEB. UK NEA. Natural Environment White Paper. Over 15,000 people and organisations sent responses to a call for ideas on the Natural Environment White Paper, a record number for a Defra consultation, proving that people want to see a real positive change in the future of our natural environment.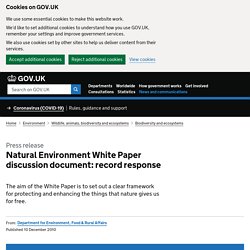 The natural environment underpins our economic prosperity, health and wellbeing. The aim of the White Paper is to set out a clear framework for protecting and enhancing the things that nature gives us for free, which are too often taken for granted. Thanking everyone for their responses, Environment Secretary Caroline Spelman said: "I'm delighted with the overwhelming response that we have had to our call for ideas on the Natural Environment White Paper.
We've received over 15,000 replies from individuals, NGOs and businesses, which goes to show that people really care about the natural environment and want a say in how it is managed. Nature improvement areas. Marine Protected Areas. Marine Protected Areas (MPAs) are zones of the seas and coasts where wildlife is protected from damage and disturbance.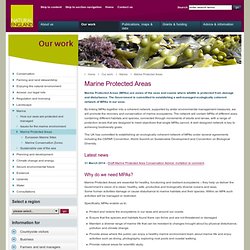 The Government is committed to establishing a well-managed ecologically coherent network of MPAs in our seas. By linking MPAs together into a coherent network, supported by wider environmental management measures, we will promote the recovery and conservation of marine ecosystems. The network will contain MPAs of different sizes containing different habitats and species, connected through movements of adults and larvae, with a range of protection levels that are designed to meet objectives that single MPAs cannot. A well designed network is key to achieving biodiversity goals. The UK has committed to establishing an ecologically coherent network of MPAs under several agreements including the OSPAR Convention, World Summit on Sustainable Development and Convention on Biological Diversity.
Home - National Biodiversity Network.
---