NICHE SITES
Get flash to fully experience Pearltrees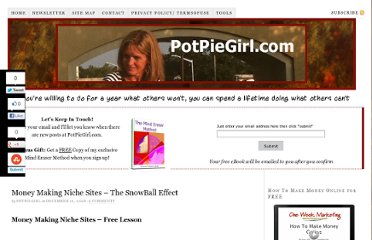 Money Making Niche Sites – Free Lesson I don't think it is any secret that PotPieGirl loves to make niche sites.
I get a LOT of questions about niche websites . These questions are mainly about using free blog platforms from WordPress or Bloggers BlogSpot vs using your own domain and your own hosting – and all the confusion about how this all works. So, lets talk about Blogspot vs WordPress, Free vs Paid, and niche sites.
I make niche websites. I make a LOT of niche websites. I have this theory that while one niche website is good… many, many websites is WAYYY better!
It is VERY common today for entire sites to built with the content found within RSS feeds from sites all over the net.
Back in October, I began a niche marketing experiment using Squidoo and good keyword research to generate traffic to a niche blog .