Threading
One of the greatest understatements I've heard in a newsgroup was made by Patricia Shanahan, in a Java newsgroup in 2001: "Multi-threaded programming needs a little care."
Multi-threading in .NET: Introduction and suggestions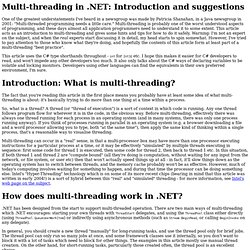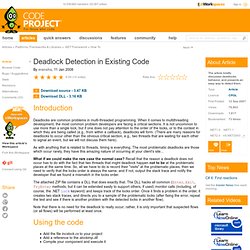 Introduction
Deadlock Detection in Existing Code. Free source code and progra
Thread synchronization: Wait and Pulse demystified. Free source
Table of Contents Introduction This short article is about the three less well understood methods of the Monitor class: Wait, Pulse, and PulseAll.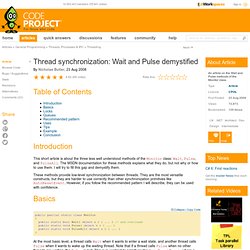 Concurrent Affairs: More AsyncEnumerator Features
I have written earlier (here and here) about Threads.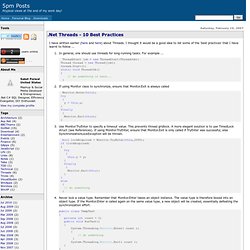 5pm Posts: .Net Threads - 10 Best Practices
Quantum Bit Designs » Blog Archive » Stop Polluting the UI Threa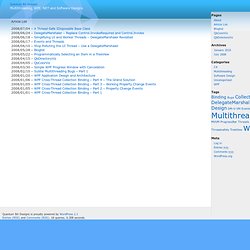 Quantum Bit Designs Multithreading, WPF, .NET and Software Designs
Download source code - 1.08 KB
A basic NamedLock class. Free source code and programming help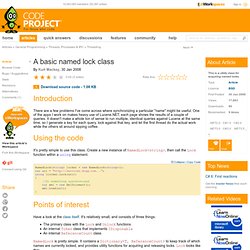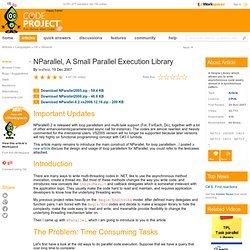 Download NParallel2005.zip - 59.4 KB Download NParallel2008.zip - 46.8 KB Download NParallel.0.2.vs2008.12.19.zip - 209 KB
NParallel, A Small Parallel Execution Library - The Code Project
Bounded Blocking Queue (One Lock) - The Code Project - C# Progra
Download source files - 5.99 Kb Introduction This article includes a C# implementation of a Bound Blocking Queue (i.e.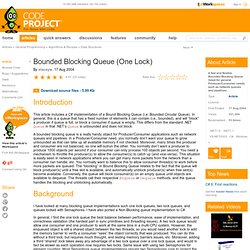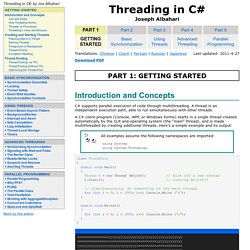 Threading in C# Joseph Albahari