Sqlite
SQLite Optimization FAQ. Jim Lyon (jplyon@attglobal.net) 10-Sep-2003 Compiled from sqlite docs, source, and yahoo postings This document is current for SQLite 2.8.6 1.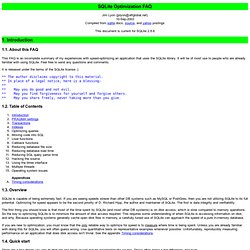 Introduction 1.1. Using SQLite for fast database testing – technical gotchas and w. Blisteringly Fast Integration Tests With NHibernate and SQLite | One thing I love about using NHibernate as my O/RM is being able to push the database schema from the domain.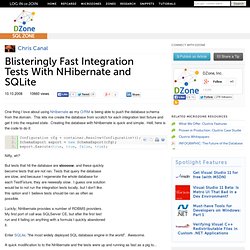 This lets me create the database from scratch for each integration test fixture and get it into the required state. Creating the database with NHibernate is quick and simple. Hell, here is the code to do it: 1.Configuration cfg = container.Resolve<Configuration>(); Here comes dotConnect for SQLite.
---