rest
Get flash to fully experience Pearltrees
Updated: Instead of reading my specific nits here, you can see a brief summary of my suggested guideline to designing a cloud interface. Ian Foster, Savas Parastatidis, Paul Watson, and Mark Mckeown have an article in the latest Communications of the ACM comparing WS-ResourceFramework (WS-RF), WS-Transfer (W-T), RESTful HTTP, and "no convention" as approaches to modeling state. This article was particularly timely, as it is very similar in approach to my "Managing Data in an SOA" talk at Jazoon 2008. (A better formatted PDF copy of that presentation is available here .)
Posted by Gregor Roth on Aug 18, 2009 Sections Enterprise Architecture , Architecture & Design Topics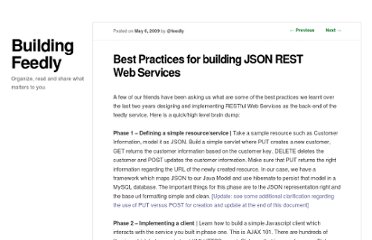 A few of our friends have been asking us what are some of the best practices we learnt over the last two years designing and implementing RESTful Web Services as the back-end of the feedly service. Here is a quick/high level brain dump: Phase 1 – Defining a simple resource/service | Take a sample resource such as Customer Information, model it as JSON. Build a simple servlet where PUT creates a new customer, GET returns the customer information based on the customer key, DELETE deletes the customer and POST updates the customer information.
REST Services and Metadata Endpoints in WCF Posted by Dan Rigsby on May 29th, 2008 As mentioned in a previous article , there is no defined a way to get metadata about REST based services using webHttpBinding . Since REST doesn't use SOAP , there is no WSDL that defines the service and no built in way to generate metadata about it.
Eric Newcomer : " This afternoon I finally caught up up on Steve Vinoski's recent article and blog entries about the "evils" of RPC. If you aren't already among those who have read them thoroughly, I'd encourage you to. Including the comments, it's one of the best discussions of the merits and demerits of RPC and REST that I've ever seen. The core of his argument is that the RPC abstraction is not helpful - in fact the opposite. Explicit programming is preferable when creating distributed applications. As someone in the middle of designing another RPC based system (Distributed OSGi), though, I'd like to weigh in with a few thoughts. ;-)
[ Top ] [ Prev ] [ Next ] This chapter introduces and elaborates the Representational State Transfer (REST) architectural style for distributed hypermedia systems, describing the software engineering principles guiding REST and the interaction constraints chosen to retain those principles, while contrasting them to the constraints of other architectural styles. REST is a hybrid style derived from several of the network-based architectural styles described in Chapter 3 and combined with additional constraints that define a uniform connector interface.
Brain.Save() WCF Web Programming Model Documentation Friday, January 18 2008 - blog I've gotten a lot of requests (internally and externally) for requests for resources on how to use the new WCF Web Programming Model features in .NET 3.5.
Posted by Stefan Tilkov on Dec 10, 2007 Sections Enterprise Architecture , Architecture & Design
Posted by Stefan Tilkov on Mar 13, 2008 Sections Enterprise Architecture , Architecture & Design Topics