Nhibernate
Home / Develop / NHibernate Contrib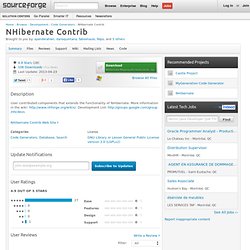 nhcontrib » BurrowHome
tarantino - Google Code
In this second part Gabriel Schenker continues his overview of the NHibernate OR/M. Introduction
Your very first NHibernate application – Part 2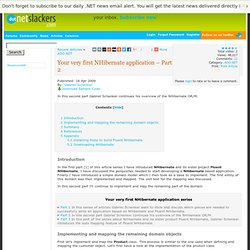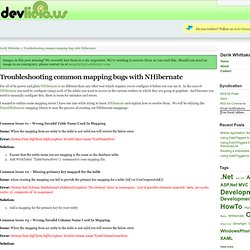 For all of its power and glory NHibernate is no different than any other tool which requires you to configure it before you can use it. In the case of NHibernate you need to configure (map) each of the tables you want to access to the various entities in which they are going to populate. And because you need to manually configure this, there is room for mistakes and errors.
Troubleshooting common mapping bugs with NHibernate - Derik Whit
Custom Collections with NHibernate, Part IV: Extensions! - Billy
In part I of this series, we examined motivations for maintaining custom collections that are compliant with NHibernate.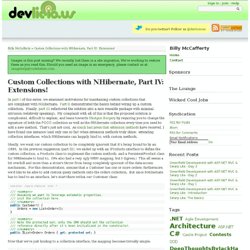 Home - NH Forge
NHibernate - a knol by Fabio Maulo
The Inquisitive Coder - Davy Brion's Blog » Blog Archive » NHibe
I published some NHibernate examples almost 4 years ago, and they still get downloaded pretty frequently. Unfortunately they still use NHibernate 1.2 and are somewhat limited as to what they demonstrate. My NHibernate course is rather example/exercise-heavy so I thought it would be a good time to replace those outdated examples with new ones and make them available to anyone who wants them. The examples are not complete yet, but will be updated frequently in the next couple of weeks.
Disclaimer!
Test Your NHibernate Mappings! - Dave Laribee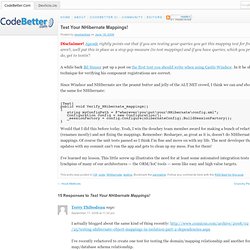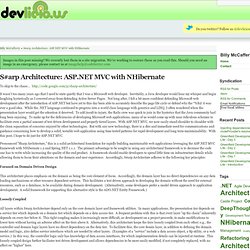 To skip to the chase... http://code.google.com/p/sharp-architecture/
S#arp Architecture: ASP.NET MVC with NHibernate and Spring - Bil
Nhibernate example structure
A few reasons to like NHibernate
b# - A Journey with NHibernate - Part 1
NHibernateRepository
Download Basic NHibernate Sample - 1,477.9 KB
NHibernate Best Practices with ASP.NET, 1.2nd Ed. - The Code Pro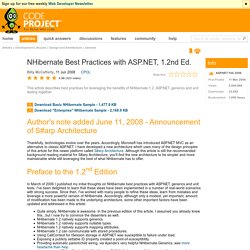 ObjectViews
NHibernate Best Practices with ASP.NET, 1.2nd Ed. - The Code Pro
Author's note added June 11, 2008 - Announcement of S#arp Architecture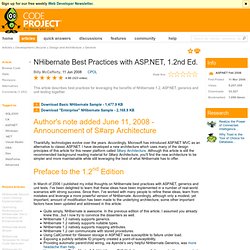 Mini-Guide: NHibernate