Ioc
AspNetIntegration - autofac - Google Code - ASP.NET integration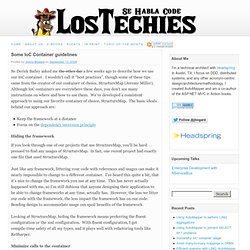 Some IoC Container guidelines - Jimmy Bogard
So Derick Bailey asked me the other day a few weeks ago to describe how we use our IoC container. I wouldn't call it "best practices", though some of these tips came from the creator of our container of choice, StructureMap (Jeremy Miller). Although IoC containers are everywhere these days, you don't see many instructions on where and how to use them. We've developed a consistent approach to using our favorite container of choice, StructureMap. The basic ideals behind our approach are: Hiding the framework
Code Insanity: Building a generic IoC wrapper.
Ninject: Lightning-fast dependency injection for .NET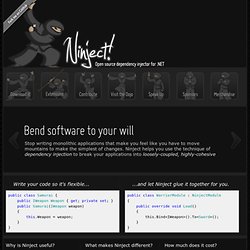 Bend software to your will Stop writing monolithic applications that make you feel like you have to move mountains to make the simplest of changes. Ninject helps you use the technique of dependency injection to break your applications into loosely-coupled, highly-cohesive components, and then glue them back together in a flexible manner. Laugh in the face of change Change is inevitable, so be prepared.
Windsor IoC Container in a Lunch Break