Ddd
Domaindrivendesign
CSCI 4448/6448 - S05 - Lectures. AutoMapper - Home. Best Practice: An Introduction To Domain-Driven Design. Lightweight Object to Object Mapper. Free source code and progra. Download source - 253 KB Introduction This article includes an object I put together that helps alleviate a common problem, mapping a particular object to a separate object.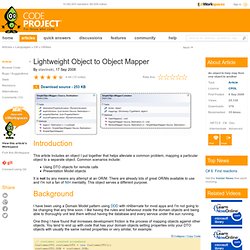 Common scenarios include: Domain Events - Take 2. Bryan Wheeler, Director Platform Development at msnbc.com "Udi Dahan is the real deal.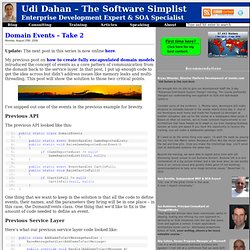 We brought him on site to give our development staff the 5-day "Advanced Distributed System Design" training. The course profoundly changed our understanding and approach to SOA and distributed systems. Consider some of the evidence: 1. Months later, developers still make allusions to concepts learned in the course nearly every day 2. One of our developers went home and made her husband (a developer at another company) sign up for the course at a subsequent date/venue 3. Dddproject - Google Code. DDDProject is an Open Source project whose purpose is to provide a DDD-style (Domain Driven Design) architecture to .Net developpers.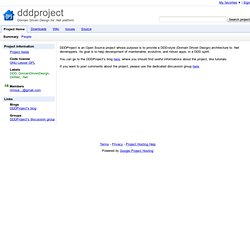 Its goal is to help development of maintenable, evolutive, and robust apps, in a DDD spirit. You can go to the DDDProject's blog here, where you should find useful informations about the project, like tutorials.
---