China.....Woking conditions etc..
In Chinese Factories, Lost Fingers and Low Pay. Wal-Mart Campaign | International Labor Rights Forum. Wal-Mart's Chinese Suppliers Accused Of Labor Violations - ChinaCSR.com - Corporate Social Responsibility (CSR), Business Intelligence, and Sustainability News for China. According to reports in the Daily Economic News, the Chinese non-profit organization China Labor Watch is releasing a report on Wal-Mart's Chinese suppliers, disclosing illegal behavior by these suppliers.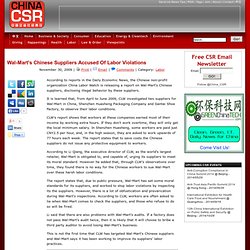 It is learned that, from April to June 2009, CLW investigated two suppliers for Wal-Mart in China, Shenzhen Huasheng Packaging Company and Gantai Shoe Factory, to observe their labor conditions. CLW's report shows that workers at these companies earned most of their income by working extra hours. If they don't work overtime, they will only get the local minimum salary. In Shenzhen Huasheng, some workers are paid just CNY2.5 per hour, and, in the high season, they are asked to work upwards of 77 hours each week.
The Hartz Mountain Corporation: Company Profile and SWOT Analysis - China Market Intelligence Center. Synopsis"The Hartz Mountain Corporation: Company Profile and SWOT Analysis" contains in depth information and data about the company and its operations.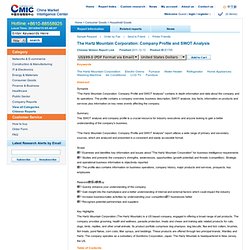 The profile contains a company overview, business description, SWOT analysis, key facts, information on products and services plus information on key news events affecting the company. SummaryThis SWOT analysis and company profile is a crucial resource for industry executives and anyone looking to gain a better understanding of the company's business. The Hartz Mountain Corporation | Company profile from Hoover's | 201-271-4800.
Hoovers 866-473-3932 Please enter a valid Company name Search Close Hoovers What do you want to find today?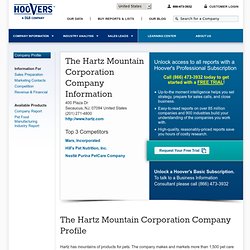 Search through millions of companies and hundreds of industries. China-Environment and health-Environment and health in China today. WHO estimates that as many as 17 per cent of all deaths in the Western Pacific region — in which area China contributes the bulk of the population — are linked to one or more environmental health risk.
The state of the environment in China is of major health concern that requires urgent systematic multi-agency, multi-sector and multinational response. Economic growth, increasing motorization, industrialization, urbanization, energy consumption and historic mismanagement of natural resources generate major air pollution problems for China. Large-scale industry relying on coal for energy production contributes to this, particularly in northern provinces. According to the World Bank (2004) Chinese cities make up 16 of the world's 20 most polluted. Indoor air pollution, primarily from bio-fuel and coal burnt in homes for cooking and heating, is also contributing significantly to ill health in China through increased risk of chronic obstructive airways disease, pulmonary and lung cancers.
Survey of Chinese Workers' Working Conditions in 2010. March 2011 Synopsis:China Labor Watch (CLW) surveyed 46 factories in mainland China in 2010.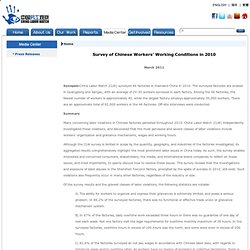 The surveyed factories are located in Guangdong and Jiangsu, with an average of 20-30 workers surveyed in each factory. China Working conditions, Information about Working conditions in China. China has the largest labor force in the world.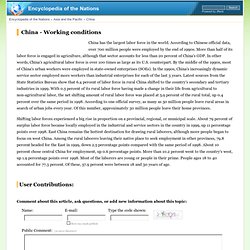 According to Chinese official data, over 700 million people were employed by the end of 1990s. More than half of its labor force is engaged in agriculture, although that sector accounts for less than 20 percent of China's GDP. In other words, China's agricultural labor force is over 100 times as large as its U.S. counterpart. By the middle of the 1990s, most of China's urban workers were employed in state-owned enterprises (SOEs). In the 1990s, China's increasingly dynamic service sector employed more workers than industrial enterprises for each of the last 3 years.