Salvacasas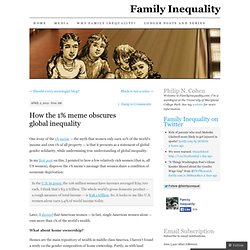 How the 1% meme obscures global inequality « Family Inequality
One irony of the 1% meme — the myth that women only earn 10% of the world's income and own 1% of all property — is that it presents as a statement of global gender solidarity, while undermining true understanding of global inequality. In my first post on this, I pointed to how a few relatively rich women (that is, all US women), disprove the 1% meme's message that women share a condition of economic deprivation: In the U.S. in 2009 , the 106 million women have incomes averaged $29,700 each.
Many states have foreclosure laws on the books that allow homeowners facing foreclosure to save their home, even if it's sold at auction.
California Foreclosure Law: How to Stop Foreclosure Even If Your Home Is Sold at Auction | Foreclosure Biz Tips & Advice | Home Foreclosure, RE Investing, Home Loan Modifications, Short Sales & More
A lot of times, the bank shows property proof to push through with foreclosure even if you acquired the house years back.
Make Use of the "Ownership Strategy" To Prevent Foreclosure | News and Articles About Real Estate and Foreclosures - Foreclosure DataOnline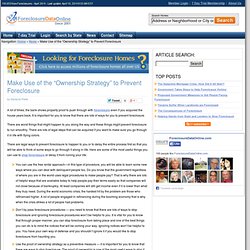 How to Legally Stop Foreclosure Proceedings | Home Guides | SF Gate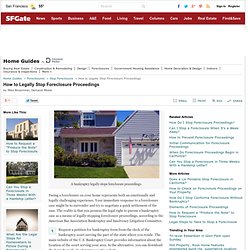 Facing a foreclosure on your home represents both an emotionally and legally challenging experience.
If foreclosure and possibly bankruptcy are looming over your shoulder then you need to decide now to get aggressive and be proactive with your mortgage lender. While legally you may not be able to stop the foreclosure without bankruptcy, as a practical matter you can negotiate with your current lender or other potential investors to work out a way to avoid foreclosure. At a minimum, California law will provide you some time to work out a new deal before the foreclosure sale date.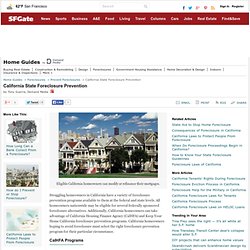 How to Prevent Foreclosure in California | Home Guides | SF Gate
How To Stop Foreclosure - Forbes.com
Is there a way to Stop Foreclosure without Filing Bankruptcy? « Nova Law Group Blog
There are many ways to stop a foreclosure action against your home without filing for bankruptcy. This article will focus on some of the most common options. Many of the legal options listed below utilize what is called a temporary restraining order and preliminary injunction to temporarily prevent the lender's foreclosure of a primary residence of the borrower.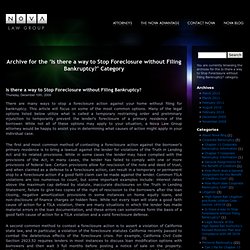 How to Stop Foreclosure in California
California Foreclosure Guide, Process & Timeline | Preventing Foreclosure
Definition of Foreclosure