Real Estate
Mortgage Bankers Association
commercial real estate - offers from commercial real estate manu
Affordable Housing Institute
Affordable Housing Institute
Affordable Housing Institute
Overview To improve human health, scientific discoveries must be translated into practical applications. Such discoveries typically begin at "the bench" with basic research in which scientists study disease at a molecular or cellular level then progress to the clinical level, or the patient's "bedside." Scientists are increasingly aware that this bench-to-bedside approach to translational research is really a two-way street. Basic scientists provide clinicians with new tools for use in patients and for assessment of their impact, and clinical researchers make novel observations about the nature and progression of disease that often stimulate basic investigations.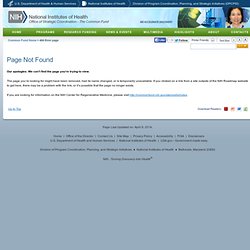 Translational Research - Overview
Translational research is scientific research that helps to make findings from basic science useful for practical applications that enhance human health and well-being. It is practiced in the medical, behavioral, and social sciences. For example, in medicine it is used to "translate" findings in basic research quickly into medical practice and meaningful health outcomes.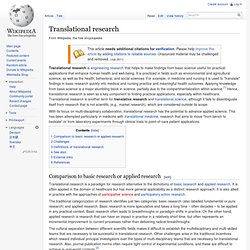 Translational research
Affordable Housing Institute
MRIS Document Management is an efficient, user-friendly tool that allows real estate professionals to manage, organize and access documents associated with listings, online 24/7.
Document Management
The Public Infrastructure Project " North Embarcadero Visionary Plan Phase 1 " (NEVP) is one of the last major urban waterfront redevelopement opportunities in North America, this is taking place by San Diego Harbor in the Columbia District in Downtown San Diego in the Winter of 2009. A permit for the first phase of the North Embarcadero Visionary Plan was approved at the July 2009 Board of Port Commissioners meeting. The first phase includes the area on Harbor Drive from the Navy Pier to the B Street Pier and a portion of West Broadway from the railroad tracks just past Pacific Highway , to the intersection of Harbor Drive .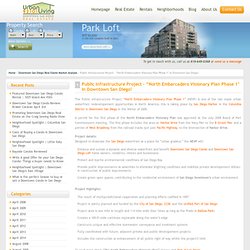 Public Infrastructure Project - North Embarcadero Visionary Plan Phase 1 in Downtown San Diego!
National Association of Home Builders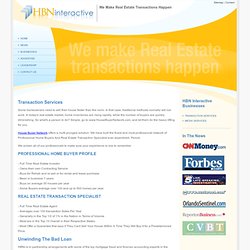 Some homeowners need to sell their house faster than the norm. In that case, traditional methods normally will not work. In today's real estate market, home inventories are rising rapidly, while the number of buyers are quickly diminishing.
Transaction Services - HBN Interactive (HBNi) - We make Real Estate Transactions happen.
Foreclosed Homes | ForeclosedHomes.com
Staring Into the Abyss 7-31-2010
Is Goldman Following the Model? 6-18-10
Perfect Solution For Housing Crisis…Do What Caesar Did! | Cancel ALL Mortgage Interest!
Great article from Harris Real Estate University economist Jeff Nielson….. Once again, I'm indebted to a reader for inspiring my latest commentary. Every once in a while, you stumble across an idea which is simply a perfect fit with a particular scenario. This was what occurred to me this morning, after reading through a fascinating historical account of the U.S. housing market – going all the way back to pre-Confederation. During the course of that discussion, the author, Martin Armstrong also referred to even earlier crises in other housing markets – including the property "bubble" experienced by Ancient Rome. It was here that I came across a 2,000 year old solution which, to the best of my knowledge has not been suggested by anyone, since the current collapse in the U.S. housing market began.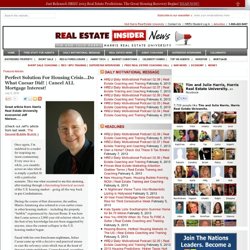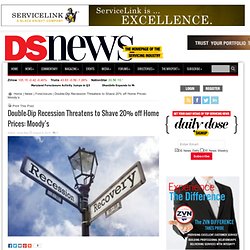 Could the U.S. economy slip back into the throes of the recession that nearly crippled the nation's financial system and protracted any semblance of a housing recovery? The analysts at Moody's Investors Service think so. "The risk of a double-dip recession is rising. We believe the odds of a near-term double dip recession have increased from nearly one in five this spring to closer to one in four," they wrote in a research report released Monday.
Double-Dip Recession Threatens to Shave 20% off Home Prices: Moody's
Microrentals and "Dead Space" in Tokyo - GOOD Blog
Williams & Williams - Real Estate Auctions
Backgrounder
Founded in 1996, RealtyTrac ® ( www.realtytrac.com ), is the leading online marketplace of foreclosure properties, with more than 1.5 million default, auction and bank-owned listings from over 2,200 U.S. counties, along with detailed property, loan and home sales data. The company's mission is to make it easier for consumers, investors and real estate professionals to locate, evaluate, buy and sell properties. RealtyTrac is the only major real estate website to feature foreclosure, auction, bank-owned, for-sale-by-owner, and resale properties. RealtyTrac collects and aggregates foreclosure data from more than 2,200 counties, covering more than 90 percent of U.S. households, appends the data with estimated property values, comparable sales, loan history, tax lien and bankruptcy records, trustee and lender information and property details and updates the entire database twice daily.
Foreclosure Listings | Bank Owned Homes | Bank Owned Properties