Nextgendyidesign
Op initiatief van Herman Wijffels en Klaas van Egmond, beiden verbonden aan de Universiteit Utrecht en het Utrecht Sustainability Institute (USI) en Peter Blom van de Triodos Bank is in 2010 het Sustainable Finance Lab opgericht. In dit Lab zijn wetenschappers uit verschillende wetenschappelijke disciplines samengebracht. Doel is het ontwikkelen van ideeën voor een daadwerkelijke verduurzaming van de financiële sector: een stabiele en robuuste financiële sector die bijdraagt aan een economie die de mens dient zonder daarbij zijn leefmilieu uit te putten. Hiervoor zijn meer fundamentele veranderingen nodig dan wat nu op de maatschappelijke agenda staat. Het Sustainable Finance Lab organiseerde in 2011 en 2012 een serie discussieavonden in de aula van het Academiegebouw te Utrecht. Daarnaast leveren de leden van het Sustainable Finance Lab via individuele en gezamenlijke publicaties en presentaties een bijdrage aan de hervorming van de financiële sector.
Utrecht Sustainable Finance Lab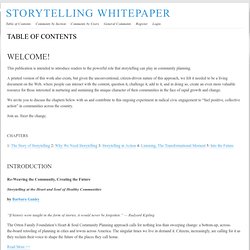 Storytelling Whitepaper
This publication is intended to introduce readers to the powerful role that storytelling can play in community planning. A printed version of this work also exists, but given the unconventional, citizen-driven nature of this approach, we felt it needed to be a living document on the Web, where people can interact with the content, question it, challenge it, add to it, and in doing so, create an even more valuable resource for those interested in nurturing and sustaining the unique character of their communities in the face of rapid growth and change. We invite you to discuss the chapters below with us and contribute to this ongoing experiment in radical civic engagement to "fuel positive, collective action" in communities across the country. Join us.
Home | Orton Family Foundation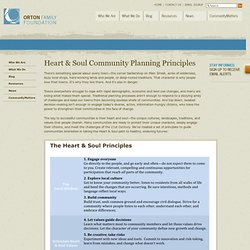 There's something special about every town—the corner barbershop on Main Street, acres of wilderness, busy local shops, hard-working lands and people, or deep-rooted traditions. That character is why people love their towns. It's why they live there. And it's also in danger.
Heart & Soul Community Planning Principles | Orton Family Foundation
"When a community takes the time to get to know itself,it gains a sense of identity and purposethat informs decisions and planning."— Lyman Orton, Founder The Heart & Soul method is a barn-raising approach to community planning and development designed to increase participation in local decision-making and empower residents to shape the future of their communities in a way that upholds the unique character of each place. Heart & Soul reconnects people with what they love most about their town, and translates those personal connections into a blueprint that serves as the foundation for future community decisions. "Just as one can't build a durable house on a foundation of shifting sands," says Lyman Orton, "a town can't expect to build an enduring and prosperous future unless its residents have laid down their own emotional and cultural foundation." That is what we mean by "heart and soul"—the things that make a place feel like home.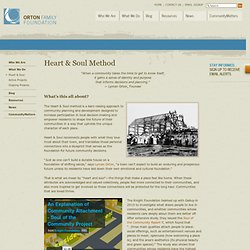 Heart & Soul | Orton Family Foundation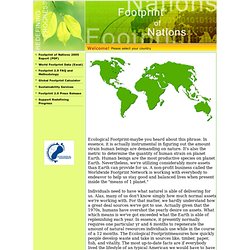 Welcome To Redefining Progress
Ecological Footprint-maybe you heard about this phrase. In essence, it is actually instrumental in figuring out the amount strain human beings are demanding on nature. It's also the metric to determine the quantity of human strain on planet Earth. Human beings are the most productive species on planet Earth.
Contact Us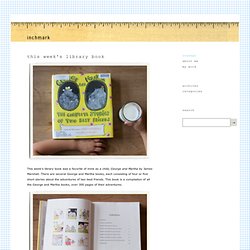 Last January I spoke on a panel at Alt Design Summit about Work/Life Balance. And I've spent the last 9 month trying to follow my own advice. I spoke at Alt about how I see the Work/Life Balance as a juggle. We have these balls in the air: jobs, kids, freelance work, family responsibilities, volunteering, husbands, hobbies, church obligations, housekeeping, blogging.. I could go on and on. But not all our balls weigh the same.