Nextgendyidesign
Utrecht Sustainable Finance Lab. Storytelling Whitepaper. Home | Orton Family Foundation. Heart & Soul Community Planning Principles | Orton Family Foundation. There's something special about every town—the corner barbershop on Main Street, acres of wilderness, busy local shops, hard-working lands and people, or deep-rooted traditions.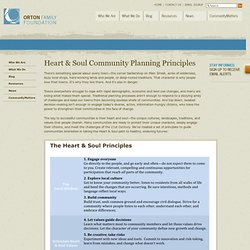 That character is why people love their towns. It's why they live there. And it's also in danger. Heart & Soul | Orton Family Foundation. "When a community takes the time to get to know itself,it gains a sense of identity and purposethat informs decisions and planning."— Lyman Orton, Founder The Heart & Soul method is a barn-raising approach to community planning and development designed to increase participation in local decision-making and empower residents to shape the future of their communities in a way that upholds the unique character of each place.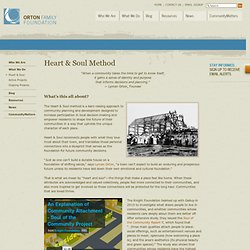 Heart & Soul reconnects people with what they love most about their town, and translates those personal connections into a blueprint that serves as the foundation for future community decisions. "Just as one can't build a durable house on a foundation of shifting sands," says Lyman Orton, "a town can't expect to build an enduring and prosperous future unless its residents have laid down their own emotional and cultural foundation." That is what we mean by "heart and soul"—the things that make a place feel like home. Welcome To Redefining Progress. Sustainable Communities Online. Contact Us. Inchmark - inchmark journal.
---