Mexi-can
When I present my novel The Last Prince of the Mexican Empire, one of the inevitable questions I get is, how long did it take you to write it? It took over a decade, on-and-off, and according to my best calculations, full-time, about seven years. Why so long? Apart from actually writing it, I had to do the mountainous reading to even begin to make sense of 19th century Mexico and the French Intervention; extensive original archival research; and-- this is what surprised me the most-- get my head around the concept of royalty. And one reason it took me so long to get my head around the idea of royalty is that, for more time than I'd like to admit, I didn't realize that I needed to.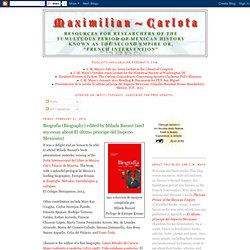 Maximilian and Carlota: A Blog for Researchers
February 27, 2014 Seattle WA Panel Discussion "Homesteading on the Digital Frontier: Writers Blogs" Associated Writing Programs Conference Room 615/616/617 Washington State Convention Center, Level 6 4:30 pm - 5:45 pm Writers present strategies on how to start a blog, where to get material, how to publicize a blog and add readers and followers, and how to sustain it over time.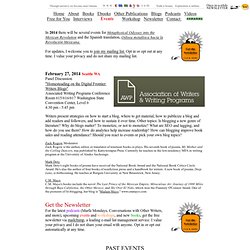 C.M. Mayo -- Events
Customer Reviews: Maximiliano intimo: El emperador Maximiliano y su corte : memorias de un secretario (Al siglo XIX, ida y regreso) (Spanish Edition)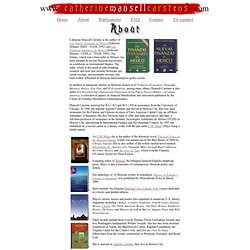 About Catherine Mansell Carstens
Catherine Mansell Carstens is the author of Las Nuevas Finanzas en México (Editorial Milenio/ IMEF / ITAM, 1992) and Las Finanzas Populares en México (Editorial Milenio / CEMLA / ITAM, 1995). The former, which was a best-seller in Mexico, has been adopted in several Mexican universities as a textbook on international finance. The latter, which is the result of path-breaking research into how low-income Mexicans use credit, savings, and payments services, has been widely influential in Mexican microenterprise policy circles.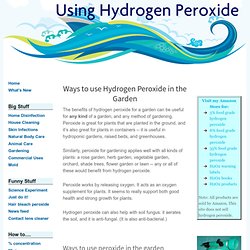 The benefits of hydrogen peroxide for a garden can be useful for any kind of a garden, and any method of gardening. Peroxide is great for plants that are planted in the ground, and it's also great for plants in containers -- it is useful in hydroponic gardens, raised beds, and greenhouses. Similarly, peroxide for gardening applies well with all kinds of plants: a rose garden, herb garden, vegetable garden, orchard, shade trees, flower garden or lawn -- any or all of these would benefit from hydrogen peroxide. Peroxide works by releasing oxygen.
About us
(Clockwise from top left) Adam Kennedy, Kirsten Bradley, Michael Hewins, Ashar Fox, Nick Ritar) Milkwood is a permaculture enterprise based near Mudgee, NSW Australia. Founded in 2007 by Kirsten Bradley and Nick Ritar with the intention to develop a small farm from scratch that would also be a working, kick-ass permaculture system, Milkwood is now bigger than just our little family.
Sasha Woodsman
Google Image Result for http://geology.fullerton.edu/whenderson/f2007201/sequoia/oak_tree_root_system_opt.jpg
Inspired by a similar blog post about 10 Magnificent trees that has been widely propagated around the blogsphere I decided to put together my own list of great trees of renown that I believe is more accurate than the above mentioned post. I had a hard time keeping the list to ten and ended up expanding it to twelve with some runner-up trees by category. At the end of the post I also mention some more truly great trees that did not make the list.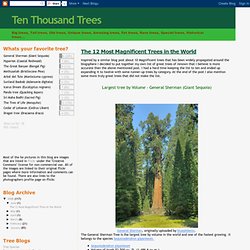 Ten Thousand Trees
Miguel León Portilla: Books, Biography, Blog, Audiobooks, Kindle
Miguel Leon-Portilla — TWAS ROLAC
Mexico Category Area Country E-mail Fellow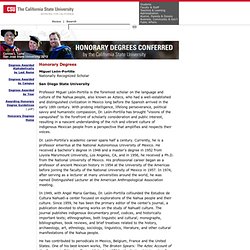 Miguel León-Portilla | Honorary Degrees | CSU
Professor Miguel León-Portilla is the foremost scholar on the language and culture of the Nahua people, also known as Aztecs, who had a well-established and distinguished civilization in Mexico long before the Spanish arrived in the early 16th century. With probing intelligence, lifelong perseverance, political savvy and humanistic compassion, Dr. León-Portilla has brought "visions of the vanquished" to the forefront of scholarly consideration and public interest, resulting in a nascent understanding of the rich and vibrant culture of indigenous Mexican people from a perspective that amplifies and respects their voices.
Miguel León-Portilla (born in Mexico City, February 22, 1926) is a Mexican anthropologist and historian, and a prime authority on Nahuatl thought and literature.[1] Career[edit] He wrote a doctoral thesis on Nahua philosophy under the tutelage of Fr. Ángel María Garibay K., another notable researcher and translator of primary Nahuatl source documents whose publications in the 1930s and 1940s first brought Nahuatl literature to widespread public attention.
Miguel León-Portilla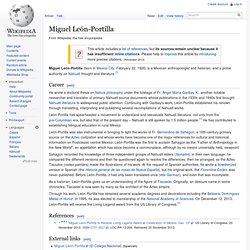 Aztec thought and culture: a study of the ancient Nahuatl mind - Miguel León-Portilla
books.google.be - For at least two millennia before the advent of the Spaniards in 1519, there was a flourishing civilization in central Mexico. During that long span of time a cultural evolution took place which saw a high development of the arts and literature, the formulation of complex religious doctrines, systems...http://books.google.be/books/about/Aztec_Thought_and_Culture.html?id=OI9J7R-R1awC&utm_source=gb-gplus-shareAztec Thought and Culture Page A Study of the Ancient Nahuatl Mind Miguel León Portilla. THOUGHT ND CULTURE AZTEC THOUGHT AND CULTURE A Study of the Ancient Nahuatl. y Miguel Leon-PortUla Translated by Jack Emory Davis.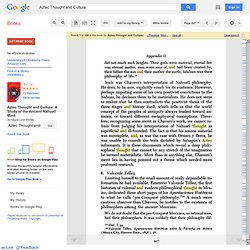 Tlamatini
Nezahualcoyotl (Classical Nahuatl: Nezahualcoyōtl, He is best remembered for his poetry, but according to accounts by his descendants and biographers, Fernando de Alva Cortés Ixtlilxochitl and Juan Bautista de Pomar, he had an experience of an "Unknown, Unknowable Lord of Everywhere" to whom he built an entirely empty temple in which no blood sacrifices of any kind were allowed — not even those of animals. However, he allowed human sacrifices to continue in his other temples. Early life[edit] The reconquest of Texcoco[edit] The campaign was divided into three parts.
Nezahualcoyotl
Huitzilihuitl [wit͡siˈliʔwit͡ɬ] (Nahuatl language; English: Hummingbird Feather) (d. ca. 1417) was the second tlatoani of Tenochtitlan, governing from 1396 to 1417,[1] (or 1390 to 1410 according to other sources).[2] Biography[edit] Family and childhood[edit] Reign[edit] Huitzilíhuitl, a good politician, continued the policies of his father, seeking alliances with his neighbors.
Huitzilihuitl
Jayavarman VII (Khmer: ជ័យវរ្ម័នទី៧, 1125–1218) was a king (reigned c.1181-1218) of the Khmer Empire in present day Siem Reap, Cambodia. He was the son of King Dharanindravarman II (r. 1150-1160) and Queen Sri Jayarajacudamani. He married Jayarajadevi and then, after her death, married her sister Indradevi. The two women are commonly thought to have been a great inspiration to him, particularly in his unusual devotion to Buddhism, as only one prior Khmer king was a Buddhist.
Jayavarman VII
The Khmer Empire, now known as Cambodia, was the powerful Khmer Hindu-Buddhist empire in Southeast Asia. The empire, which grew out of the former Kingdom of Funan and Chenla, at times ruled over and/or vassalized most of mainland Southeast Asia, parts of modern-day Laos, Thailand, and southern Vietnam.[1] Its greatest legacy is Angkor, in present-day Cambodia, which was the site of the capital city during the empire's zenith. The majestic monuments of Angkor — such as Angkor Wat and Bayon — bears testimony to the Khmer empire's immense power and wealth, impressive art and culture, architectural technique and aesthetics achievements, as well as the variety of belief systems that it patronised over time. Recently satellite imaging has revealed Angkor to be the largest pre-industrial urban center in the world.[2] The beginning of the era of the Khmer Empire is conventionally dated to 802 AD.
Khmer Empire
Ta Prohm
Roomful of Shattered Buddhas
Ta Prohm HDR
Tree roots and ruins
Giant Sequoia Tree, Los Angeles, United States
BigBangChallenge Astra Zéneca
Idea: Azoteas Vivas | Ideas4all
ecotono urbano mexico - RESIDENCIAL
Nuevo negocio: huertos en las azoteas
Plantas de invierno
Conserva
Biozotea: Azoteas Verdes «
AZOTEAS VIVAS