Hapinesssss
DUJS Online » Is Altruism Good for the Altruistic Giver? We have all seen it in action in others, as well as in ourselves.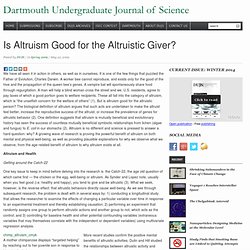 It is one of the few things that puzzled the Father of Evolution, Charles Darwin. A worker bee cannot reproduce, and exists only for the good of the hive and the propagation of the queen bee's genes. A vampire bat will spontaneously share food through regurgitation. A man will help a blind woman cross the street and we, U.S. residents, agree to pay taxes of which a good portion goes to welfare recipients. These all fall into the category of altruism, which is "the unselfish concern for the welfare of others" (1). Robert Axelrod's Research Papers. The Evolution of Cooperation: Revised Edition (9780465005642): Robert Axelrod. The Deer Park Dharmacast (Class, Moment by Moment) Dear Thay, Dear Sangha, Dear Virtual Community Today, we close our Three Month Winter Retreat and our Moment by moment class.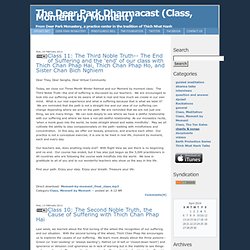 The Third Noble Truth--the end of suffering is discussed by our teachers. How Swedes And Norwegians Broke The Power Of The '1 Percent' While many of us are working to ensure that the Occupy movement will have a lasting impact, it's worthwhile to consider other countries where masses of people succeeded in nonviolently bringing about a high degree of democracy and economic justice.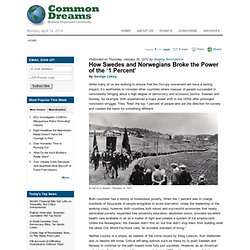 Sweden and Norway, for example, both experienced a major power shift in the 1930s after prolonged nonviolent struggle. They "fired" the top 1 percent of people who set the direction for society and created the basis for something different. A march in Ådalen, Sweden, in 1931. Resources. Commentary - Pagitsas, January 2012 | Fannie Mae. The nation's stock of affordable multifamily housing is aging.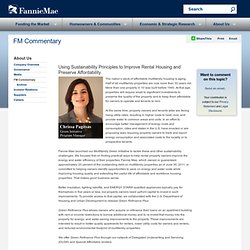 Half of all multifamily properties are now more than 30 years old. More than one property in 10 was built before 1940. At that age, properties will require small to significant investments to preserve the quality of the property and to keep them affordable for owners to operate and tenants to rent. At the same time, property owners and tenants alike are facing rising utility rates, resulting in higher costs to heat, cool, and provide water to common areas and units.
In an effort to encourage better management of energy costs and consumption, cities and states in the U.S. have enacted or are proposing laws requiring property owners to track and report energy consumption and associated costs to the locality or to prospective tenants. Choose a County in CA | Candidate Project. Home | Candidate Project. Census Bureau Homepage. Backhoe Rentals, Bob Cat & Forklift Equipment For Rent In San Diego | El Camino Rental. We carry a wide variety of construction equipment product brands!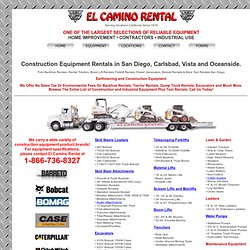 For equipment specifications, please contact El Camino Rental at1-866-736-8327 Skid Steers Loaders. Carl's Rentals of San Diego - Cars, Trucks, Equipment and Tools. Prices Subject to Change - Be Sure to Confirm Price and Availability Thank you for checking out our site.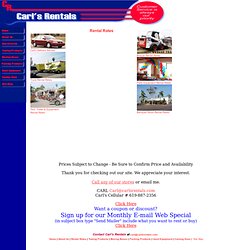 We appreciate your interest. Call any of our stores or email me. Rental Rates for Post Hole Diggers, Rototillers, Trenchers, Tampers. San Diego Equipment Rental. Garden Tools - Mantis 4 Pay - Offical Site. There is no fee for this service!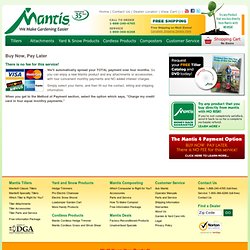 We'll automatically spread your TOTAL payment over four months. So you can enjoy a new Mantis product and any attachments or accessories, with four convenient monthly payments and NO added interest charges. Simply select your items, and then fill out the contact, billing and shipping information. When you get to the Method of Payment section, select the option which says, "Charge my credit card in four equal monthly payments. " Loan Modification Progress Chart | Eye on the Bailout. Note: The program features a 3-month trial period for modifications before they're eligible to become permanent.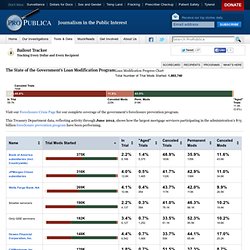 However, many trials have lasted much longer. The "Aged" column shows how many trials were older than six months at each servicer as of June 2012, while the "In Trial" shows trials that had not yet lasted that long. Treasury only released data for the ten largest servicers. In the chart above, "Smaller servicers" refers to all other servicers enrolled in the program. "Only GSE servicers" refers to companies that have not enrolled in the Treasury Department programs, but do service loans owned or guaranteed by Fannie Mae or Freddie Mac.
Foreclosure Crisis. Bank of America Lied to Homeowners and Rewarded Foreclosures, Former Employees Say by Paul Kiel ProPublica, June 14, 2013, 5:44 p.m.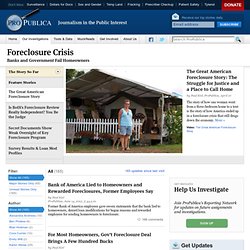 Former Bank of America employees gave sworn statements that the bank lied to homeowners, denied loan modifications for bogus reasons and rewarded employees for sending homeowners to foreclosure. For Most Homeowners, Gov't Foreclosure Deal Brings A Few Hundred Bucks by Paul Kiel ProPublica, April 10, 2013, 3:44 p.m. Bank regulators finally announced the details of a settlement with the biggest banks over foreclosure abuses. Freddie Mac Bets Against American Homeowners. Freddie began increasing these bets dramatically in late 2010, the same time that the company was making it harder for homeowners to get out of such high-interest mortgages.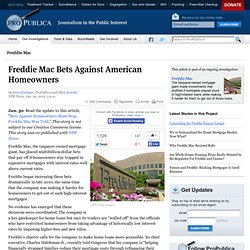 No evidence has emerged that these decisions were coordinated. The company is a key gatekeeper for home loans but says its traders are "walled off" from the officials who have restricted homeowners from taking advantage of historically low interest rates by imposing higher fees and new rules. Freddie's charter calls for the company to make home loans more accessible. Its chief executive, Charles Haldeman Jr., recently told Congress that his company is "helping financially strapped families reduce their mortgage costs through refinancing their mortgages." But the trades, uncovered for the first time in an investigation by ProPublica and NPR, give Freddie a powerful incentive to do the opposite, highlighting a conflict of interest at the heart of the company. Is Freddie Mac Betting Against Homeowners? Is Freddie Mac trying to help homeowners-or hurt them? A recent investigation into trades made by the taxpayer-owned mortgage giant shows that while Freddie with one hand is helping consumers get mortgages, it is, with its other, making those mortgages harder to refinance.
Result: Homeowners trying to refinance their way out of high-interest mortgages say they feel trapped in "financial jail. " The investigation-a joint effort between National Public Radio and ProPublica, an independent, non-profit investigative news service-looked at multibillion-dollar investments made late in 2010 by Freddie. iKitchen – DIY Touch Screen Wall-Mount Computer. This New Zealand modder decided to make a touch screen PC for his kitchen so his wife could keep inventory of their food, print out shopping lists, access the web, watch TV and use it as a normal PC. First, he found a cheap touch screen monitor which would form the heart of the device. These screens are used in vending machines and public places in Japan so they are vandal-proof and water-proof which is perfect for the kitchen environment. **Note** This post was first published six months before the iPad was released.
For the PC aspect of the project, he decided to build one from scratch. Compiz Home. Planet Compiz. True3D*Shell project. GNOME. The Diaspora Project. MIT License. The MIT License is a free software license originating at the Massachusetts Institute of Technology (MIT).
It is a permissive free software license, meaning that it permits reuse within proprietary software provided all copies of the licensed software include a copy of the MIT License terms. Such proprietary software retains its proprietary nature even though it incorporates software under the MIT License. The license is also GPL-compatible, meaning that the GPL permits combination and redistribution with software that uses the MIT License.[1] Desktops. In general there are two flavors of X desktop. The two most famous "heavyweight" desktop projects are GNOME and KDE; these include both a desktop environment and an application development framework. A desktop environment includes a window manager, help browser, file manager, task bar, and so on. A development framework includes any number of libraries to ease application development, perhaps most importantly a GUI toolkit. GNOME and KDE are the desktops with the most support from Linux distribution vendors.
The second flavor of X desktop includes a desktop environment only; no development framework is included. Étoilé.
---