GTD
Know more. Map your mind. There's a lot of connections in your head, but unfortunately sometimes they don't last. With TheBrain, your digital Brain captures all that intelligence for playback just when you need it. Find anything.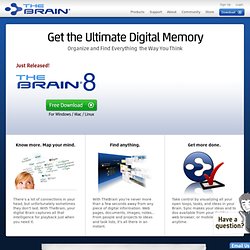 Mind Mapping Software, Brainstorming, GTD and Knowledgebase Software
Personal Strategic Plan - Plan Options to Unleash a Performance Explosion
David Allen
BW Online | August 31, 2001 | Getting Things Done -- Part 2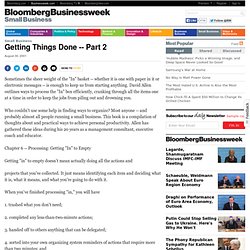 Sometimes the sheer weight of the "In" basket -- whether it is one with paper in it or electronic messages -- is enough to keep us from starting anything. David Allen outlines ways to process the "In" box efficiently, cranking through all the items one at a time in order to keep the jobs from piling out and drowning you. Who couldn't use some help in finding ways to organize?
BW Online | August 24, 2001 | Getting Things Done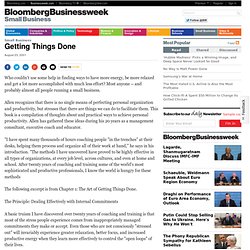 Who couldn't use some help in finding ways to have more energy, be more relaxed and get a lot more accomplished with much less effort? Most anyone -- and probably almost all people running a small business. Allen recognizes that there is no single means of perfecting personal organization and productivity, but stresses that there are things we can do to facilitate them. This book is a compilation of thoughts about and practical ways to achieve personal productivity.
Free Articles