Design
Editora terceiro nome. Doors of Perception. BackType. MongoDB. Digital Photography 101. Dope Ambition - High Fashion, Independent Fashion, Street Style and Design. Architectuul. Architects, Architecture - Building Knowledge! The Senescent Desk by Love Hultén. Gothenburg, Sweden-based designer Love Hultén sent me a project called The Senescent Desk, a project about natural change without maintenance and a story about interaction.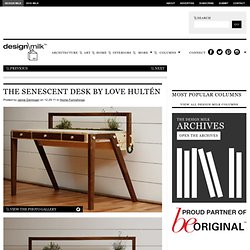 The Senescent Desk is basically a self-sufficient gardening system based on a water-tank, mist makers, two fans, a growth substrate material made from recycled plastic and a digital time. The idea is that over time, the vegetation will flourish and (hopefully) eventually "attack" the artifact without the need of human interaction.
Home. Dsignarium | All About Design.
---