Blogs
Interview: Peter Shallard, The Shrink For Entrepreneurs | The Emotion Machine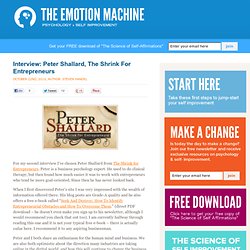 For my second interview I've chosen Peter Shallard from The Shrink for Entrepreneurs. Peter is a business psychology expert. He used to do clinical therapy, but then found how much easier it was to work with entrepreneurs who tend be more goal-oriented. Since then he has never looked back. When I first discovered Peter's site I was very impressed with the wealth of information offered there.
Recently, I've been having a few discussions with business owners about the second point in my entrepreneurial hat trick. I've been meditating on freedom – that glorious, abstract stuff that goes with wealth and sanity like tom goes with dick and harry. Turns out that the pursuit of freedom has been tripping up well meaning, ambitious entrepreneurs. Wealth and sanity have vanished in the face of the wannabe entrepreneur's desire to live without rules or boundaries.
Why freedom is bad for entrepreneurs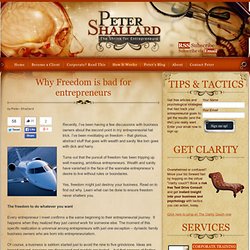 Your Ideas Suck – A rant on Startups, Investors & Profit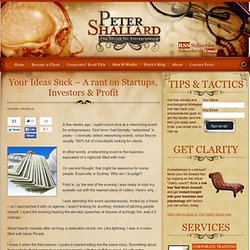 A few weeks ago, I spent some time at a networking event for entrepreneurs. First time I had formally "networked" in years – I normally detest networking events, since they're usually 100% full of consultants looking for clients. In other words, a networking event is the business equivalent of a nightclub filled with men.
Information Is Beautiful | Ideas, issues, knowledge, data - visualized!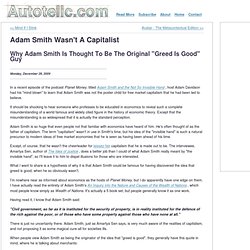 Why Adam Smith is thought to be the original "greed is good" guy Monday, December 28, 2009 In a recent episode of the podcast Planet Money, titled Adam Smith and the Not So Invisible Hand, host Adam Davidson had his "mind blown" to learn that Adam Smith was not the poster child for free market capitalism that he had been led to believe.
Adam Smith Wasn't A Capitalist
Narco, Mojado, o Puta – Telenovela Por Mario Quijano Pavon Estos eventos toman lugar en el año 2033. En todas las telenovelas los personajes tienen dos nombres. Capítulo I – Cuando los Hijos se Van…a Chingar a su Madre a otro Lado
El Cerro de las Campanas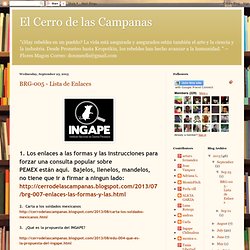 Google Image Result for http://equatorlive.com/jjjj/files/2009/12/fractal_t_web03.jpg
Lifehacker, tips and downloads for getting things done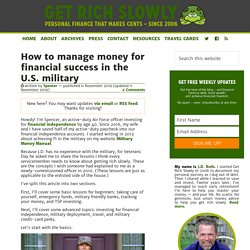 Note: This article is from J.D. Roth, who founded Get Rich Slowly in 2006. J.D.'s non-financial writing can be found at More Than Money, where he recently wrote about how to be happy. "How would you like to write an Unconventional Guide?" my friend Chris Guillebeau asked me last spring. As long-time readers know, I've joined Chris to travel across the U.S. by train, travel across Norway by train, and produce the first three editions of the World Domination Summit conference here in Portland.
Get Rich Slowly - Personal Finance That Makes Cents
Bair to Attempt Mods in IndyMac's Servicing Portfolio « naked ca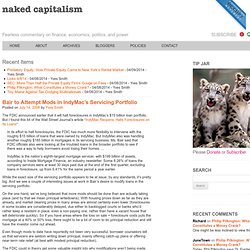 The FDIC announced earlier that it will halt foreclosures in IndyMac's $15 billion loan portfolio. But I found this bit of the Wall Street Journal's article "IndyMac Reopens, Halts Foreclosures on Its Loans": In its effort to halt foreclosures, the FDIC has much more flexibility to intervene with the roughly $15 billion of loans that were owned by IndyMac. But IndyMac also was handling another roughly $185 billion in mortgages in its servicing business. Ms. Bair said that FDIC officials also were looking at the troubled loans in the broader portfolio to see if there was a way to help borrowers avoid losing their homes…..