Blog
50 Best Design Blogs For Mom: Where to head for style inspiration & drool-worthy products. The beauty of the Internet is in the sharing of ideas.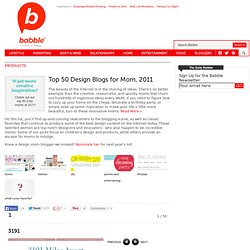 There's no better example than the creative, resourceful, and spunky moms that churn out hundreds of ingenious ideas every week. If you need to figure how to cozy up your home on the cheap, decorate a birthday party, or simply soak up some inspiration to make your life a little more beautiful, turn to these innovative moms.
Read More » CSS Starbursts with CSS3 transforms and transitions. By Matthew James Taylor on 15 May 2010 I was recently experimenting with the new CSS3 rotation property and it occurred to me that I could use this to create image-free starbursts.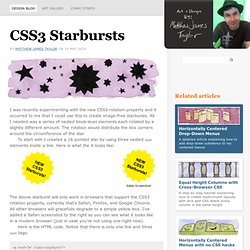 All I needed was a series of nested block-level elements each rotated by a slightly different amount. The rotation would distribute the box corners around the circumference of the star. To start with I created a 16 pointed star by using three nested span elements inside a link. Get down! How to keep footers at the bottom of the page. By Matthew James Taylor on 10 November 2007 When an HTML page contains a small amount of content, the footer can sometimes sit halfway up the page leaving a blank space underneath.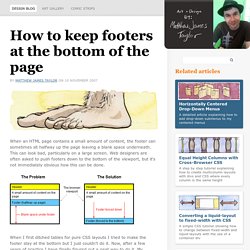 This can look bad, particularly on a large screen. Web designers are often asked to push footers down to the bottom of the viewport, but it's not immediately obvious how this can be done. When I first ditched tables for pure CSS layouts I tried to make the footer stay at the bottom but I just couldn't do it. Now, after a few years of practice I have finally figured out a neat way to do it.
Design/layout reference
Eat Sleep Social – Mike Phillips | exploring all things social media. Why A Good Web Site Matters To Your Business - Stepcase Lifehack. For most businesses, a web site is one of the most important investments you can make.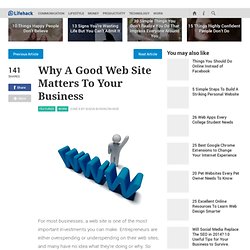 Entrepreneurs are either overspending or underspending on their web sites, and many have no idea what they're doing or why. So today I'm going to talk about why a good, solid web site really matters to your business, and in the next two weeks, I'll follow up with articles on the core components your web site needs to work well for you, and how to hire a solid web firm to build your site affordably. 1. Brandintheory | Marketing, Digital & Brand Thinking.
300+ Resources to Help You Become a WordPress Expert. WordPress is one of the most popular blogging platforms available today.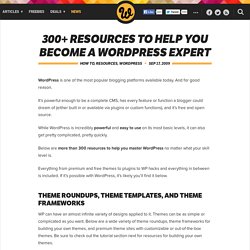 And for good reason. It's powerful enough to be a complete CMS, has every feature or function a blogger could dream of (either built in or available via plugins or custom functions), and it's free and open source.
---