Blog
50 Best Design Blogs For Mom: Where to head for style inspiration & drool-worthy products
by Matthew James Taylor on 15 May 2010 I was recently experimenting with the new CSS3 rotation property and it occurred to me that I could use this to create image-free starbursts. All I needed was a series of nested block-level elements each rotated by a slightly different amount. The rotation would distribute the box corners around the circumference of the star. To start with I created a 16 pointed star by using three nested span elements inside a link.
CSS Starbursts with CSS3 transforms and transitions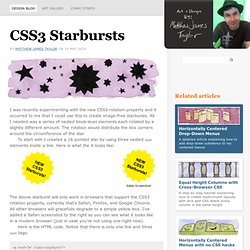 by Matthew James Taylor on 10 November 2007 When an HTML page contains a small amount of content, the footer can sometimes sit halfway up the page leaving a blank space underneath. This can look bad, particularly on a large screen. Web designers are often asked to push footers down to the bottom of the viewport, but it's not immediately obvious how this can be done. When I first ditched tables for pure CSS layouts I tried to make the footer stay at the bottom but I just couldn't do it. Now, after a few years of practice I have finally figured out a neat way to do it.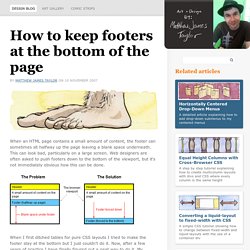 Eat Sleep Social – Mike Phillips | exploring all things social media
Why A Good Web Site Matters To Your Business - Stepcase Lifehack
Data Tools
Brandintheory | Marketing, Digital & Brand Thinking
WordPress is one of the most popular blogging platforms available today. And for good reason. It's powerful enough to be a complete CMS, has every feature or function a blogger could dream of (either built in or available via plugins or custom functions), and it's free and open source.