Marktplaats voor diensten
Klusbode.nl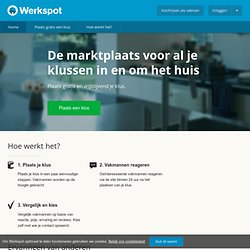 Hoe werkt het? 1. Plaats je klusPlaats je klus in een paar eenvoudige stappen. Vakmannen worden op de hoogte gebracht.2.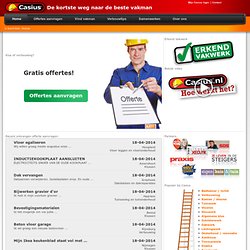 De kortste weg naar de beste vakman U bent hier: Home Mijn Casius login Contact
Casius.nl
Latendoen.nl
Kluspagina.net
Twizzi.be
zoekeenmannetje.nl
Opdrachtplein.nl
Freelance.nl
Freelancematch.nl
Project-IT.nl
Project-it.nl wordt aanbevolen door Nuzakelijk.nl als de TOP marktplaats voor freelance ICT specialisten!!! Project-it.nl heeft per 2 april een nieuwe eigenaar: TechniQ, en dat gaan we vieren! De komende tijd is Project-it daarom volledig gratis! Grijp nu uw kans! Registreer nu en maak gratis gebruik van alle mogelijkheden! Het plaatsen van een freelance IT /zzp ict project is ook gratis!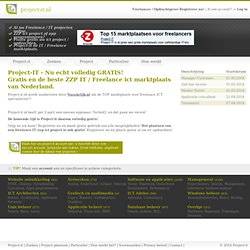 SiteDeals.nl
Expeur.nl
Myler.nl
Meer informatie Zoek in onze opdrachten Zoeken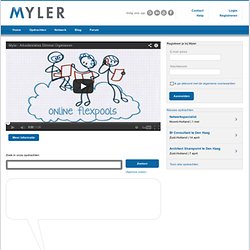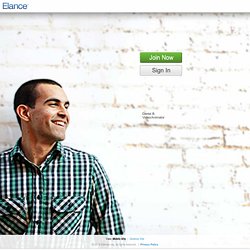 Find freelancers at the world's most-trusted online workplace. Elance is where businesses go to find, hire, collaborate with and pay leading freelancers from more than 180 countries. With a community of over 3 million freelancers and 1 million businesses, on Elance it's easy to hire a top freelancer.
Find startup jobs, start up work, and companies. See Salaries. | Jobnob.com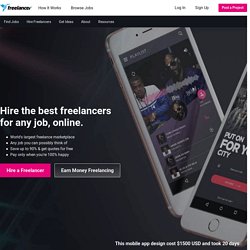 Freelancer.com is the world's largest freelancing, outsourcing, and crowdsourcing marketplace for small business. With over 10 million users, you can hire a freelancer to do your contract work at a fraction of the cost. Whether you need PHP developers, web designers, or content writers, you can outsource jobs within minutes.