Architecture
ESB.NET
Classic Mistakes Enumerated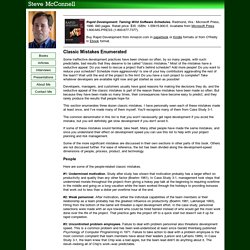 Some ineffective development practices have been chosen so often, by so many people, with such predictable, bad results that they deserve to be called "classic mistakes." Most of the mistakes have a seductive appeal. Do you need to rescue a project that's behind schedule?
A Trace in the Sand
March 2013 What's a Trace? For those new to my Trace, be warned, this is "different"... It is a dynamic trace of (part of) my exploration of topics and content I relate to architects architecting architecture of various systems including software-intensive, socio-technical, systems of systems, and enterprises. I share the thoughts that these encounters touch off in me, as well as the places I go (references and links), in the hope that you will find my investigation and insights useful, even though they are jotted in the style of a journal which is suffused with my distinctive personality. That is, after all, what you get when working with a person, so why not when reading their journal?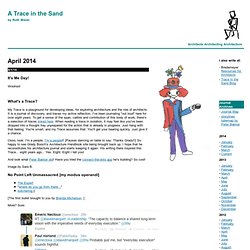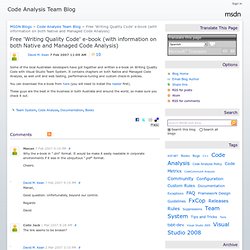 Free 'Writing Quality Code' e-book (with information on both Native and Managed Code Analysis) - Code Analysis Team Blog
Some of the local Australian developers have got together and written a e-book on Writing Quality Code with Visual Studio Team System. It contains chapters on both Native and Managed Code Analysis, as well unit and web testing, performance-tuning and custom check-in policies. You can download the e-book from here (you will need to install the reader first). These guys are the best in the business in both Australia and around the world, so make sure you check it out.
Smart Client Software Factory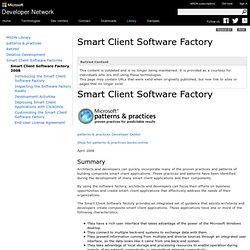 patterns & practices Developer Center Shop for patterns & practices books online April 2008 Summary
United States (English) Sign in Home Library Learn Samples Downloads Support Community Forums MSDN Library patterns & practices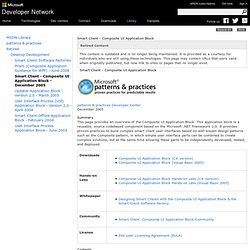 Smart Client - Composite UI Application Block
The UML Tool Guide Enterprise Architect is a Computer Aided Software Engineering (CASE) tool for designing and constructing software systems, for business process modeling, and for more generalized modeling purposes. This UML tool is based on the latest UML 2.1 specification (see www.omg.org). UML defines a visual language that is used to model a particular domain or system (either proposed or existing).
Introduction to Enterprise Architect, UML Modeling Tool [EA User Guide]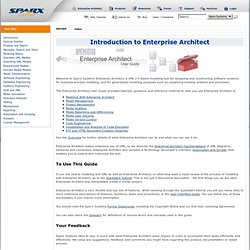 mgmtArchitecturePaper-hpdc.pdf (application/pdf Object)
How to Design Exception Hierarchies - Krzysztof Cwalina
I still get a lot of questions on how to design exception hierarchies, despite several attempts to describe it in talks, the FDG book, and in posts on this blog. Maybe the guidance gets lots in the in the complexities of the full guidance surrounding exception handling or I am a bad communicator. Let me assume the former :-), and so here is one more attempt at describing the guidance in the most succinct way I am capable of: · For each error condition you reusable routine can get into, decide whether the condition is a usage error or a system error.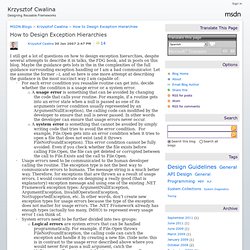 Enterprise Architecture, Software Architecture, Architects, and Architecting
E2AF A0 New Poster 03-2005 version 1.4.pdf (application/pdf Object)