Augmented Reality
Augmented reality meets Facebook - Mobile Phones
Samsung SARI AR SDK markerless tracker used in the AR EdiBear game (Android OS) Augmented reality (AR) is a live, copy, view of a physical, real-world environment whose elements are augmented (or supplemented) by computer-generated sensory input such as sound, video, graphics or GPS data. It is related to a more general concept called mediated reality, in which a view of reality is modified (possibly even diminished rather than augmented) by a computer.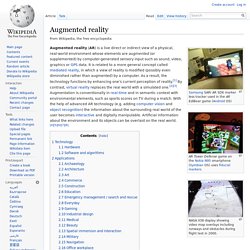 Mobilizy
Other pearltrees users with AR pearls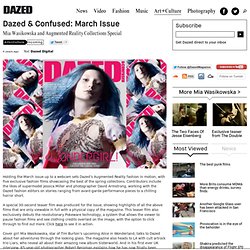 Dazed & Confused: March Issue
Holding the March issue up to a webcam sets Dazed's Augmented Reality fashion in motion, with five exclusive fashion films showcasing the best of the spring collections. Contributors include the likes of supermodel Jessica Miller and photographer David Armstrong, working with the Dazed fashion editors on stories ranging from avant-garde performance pieces to a chilling horror short. A special 30-second teaser film was produced for the issue, showing highlights of all the above films that are only viewable in full with a physical copy of the magazine.
by Chris O'Shea