Tools
6 Crucial Social Media Tips for Traditional Media. Now more than ever, traditional media outlets are embracing social media as a way to generate story ledes, increase site traffic and create conversations with readers.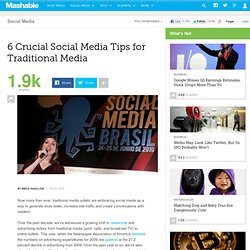 Over the past decade, we've witnessed a growing shift in readership and advertising dollars from traditional media (print, radio, and broadcast TV) to online outlets. This year, when the Newspaper Association of America released the numbers on advertising expenditures for 2009, we gawked at the 27.2 percent decline in advertising from 2008. Over the past year or so, we've also chronicled how traditional media outlets are going social and using online video to engage new audiences. The 39 Social Media Tools I'll Use Today. Amazingly, it seems like there's more social media tools than Jonas brothers, with the gap growing every day.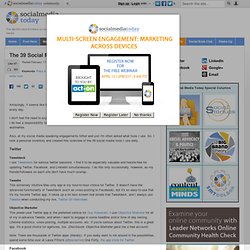 I don't feel the need to experiment with every new piece of software that emerges from its chrysalis, but I do feel a responsibility to you and my clients to have some idea of what's out there and what's worthwhile. Also, at my social media speaking engagements hither and yon I'm often asked what tools I use. So, I took a personal inventory and created this overview of the 39 social media tools I use daily. Twitter. 20 Free Social Media Monitoring Tools to Find Your Brand's Socia. I Like To Watch….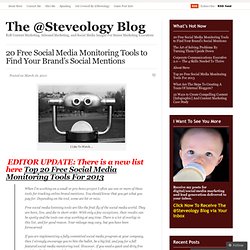 When I'm working on a small or pro-bono project I often use one or more of these tools for tracking online brand mentions. You should know that you get what you pay for. Ultimate List of Top 29 Tools for Competitive Intelligence | Lak. Marketing research isn't what it used to be.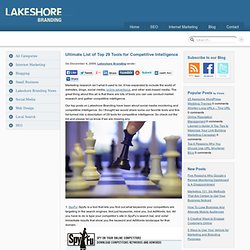 It has expanded to include the world of websites, blogs, social media, online advertising, and other web-based media. The great thing about this all is that there are lots of tools you can use conduct market research and gather competitive intelligence. The top ten ReTweet measurement tools | Full Service Online PR, Many of us working in the world of digital public relations and social media are often asked by our clients to measure how effective our online campaigns have been.
This can be done in various ways across different platforms but I thought I would share one way for the platform Twitter. To be honest fans and followers aren't accurate indicators of a user's influence anymore as both can now be purchased or users can use one of the many autofollow tools Wadds highlighted in a post recently .
---