Open
Digital-commons. Canada. Government. Website. Education. Transparency. Crowd-sourcing. Science. Justice. Crowd-funding. ChangeCamp. The EyeWriter. Posted by Justin on Friday, November 13, 2009 · Leave a Comment In case you haven't already seen it floating around the interwebs, I had to post it.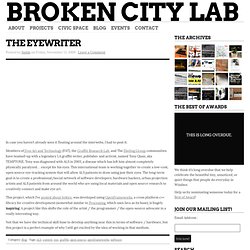 Members of Free Art and Technology (FAT), the Graffiti Research Lab, and The Ebeling Group communities have teamed-up with a legendary LA graffiti writer, publisher and activist, named Tony Quan, aka TEMPTONE. Tony was diagnosed with ALS in 2003, a disease which has left him almost completely physically paralyzed… except for his eyes. The Stimulus Map: Open Data and enhancing our democracy.
The subject of the distribution of stimulus monies has been generating a fair amount of interest.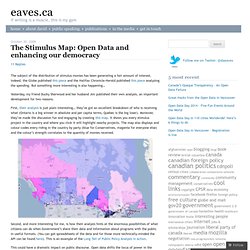 Indeed, the Globe published this piece and the Halifax Chronicle-Herald published this piece analyzing the spending. But something more interesting is also happening… PL 42/09: Transparent and open « Plinius. - "The Ford Story is a recently launched site committed to making Ford's progress towards getting new high-quality, fuel-efficient cars, and trucks on the road today transparent and open.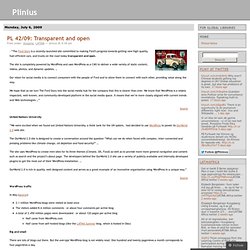 The site is completely powered by WordPress and uses WordPress as a CMS to deliver a wide variety of static content, videos, photos, and dynamic updates. … Our vision for social media is to connect consumers with the people of Ford and to allow them to connect with each other, providing value along the way. We hope that as we turn The Ford Story into the social media hub for the company that this is clearer than ever.
Sir Tim Berners-Lee Speaks at MIT on Open Data and Social Media (He's Frustrated) « ResourceShelf. Open thinking » Roots of Connectivism – Siemens. George Siemens presented "Roots of Connectivism" to our EC&I 831 group on September 29, 2009.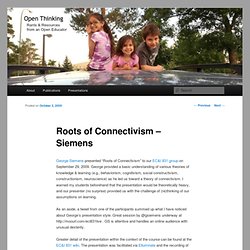 George provided a basic understanding of various theories of knowledge & learning (e.g., behaviorism, cognitivism, social constructivism, constructionism, neuroscience) as he led us toward a theory of connectivism. I warned my students beforehand that the presentation would be theoretically heavy, and our presenter (no surprise) provided us with the challenge of (re)thinking of our assumptions on learning. As an aside, a tweet from one of the participants summed up what I have noticed about George's presentation style.
Canadian Universities Too Closed Minded on Open Access. This week is International Open Access Week with universities around the world taking stock of the emergence of open access as a critical part of research and innovation.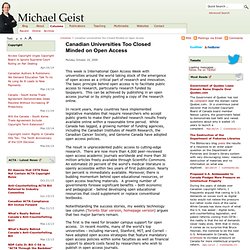 The basic principle behind open access is to facilitate public access to research, particularly research funded by taxpayers. This can be achieved by publishing in an open access journal or by simply posting a copy of the research online. In recent years, many countries have implemented legislative mandates that require researchers who accept public grants to make their published research results freely available online within a reasonable time period. While Canada has lagged, a growing number of funding agencies, including the Canadian Institutes of Health Research, the Canadian Cancer Society, and Genome Canada have adopted open access policies.
The result is unprecedented public access to cutting-edge research. Participation Camp, NYC: Open Government, Open Organizations, Open Collaboration, Open Data, and Apps For Democracy  Participation Camp 2009, an unconference held at NYU's ITP, is part of a broader vision of the organizers to position open government at the leading edge of an open organizations movement.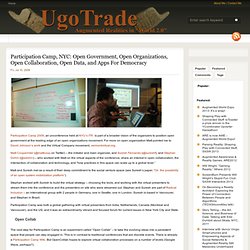 For more on open organization Matt pointed me to David Johnson's work and the Virtual Company movement, vermontvirtual.org. Matt Cooperrider (@mattcoop on Twitter) – the initiator and main organizer, and Suresh Fernando (@sureshf), and Stephan Dohrn (@sdohrn) – who worked with Matt on the virtual aspects of the conference, share an interest in open collaboration, the intersection of collaboration and technology, and "how practices in this space can scale up to a global level." Matt and Suresh met as a result of their deep commitment to the social venture space (see Suresh's paper, "On the possibility of an open system mobilization platform"). Unfinished Business › Myths & Virtues of the Open. It is almost trite to say that one embraces the open these days.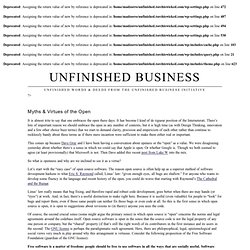 It has become I kind of de rigueur position of the Interneterati. There's lots of important reason we should embrace the open in any number of contexts, but it is high time (as with Design Thinking, innovation and a few other choice buzz terms) that we start to demand clarity, precision and empiricism of each other rather than continue to recklessly bandy about these terms as if there mere incantion were sufficient to make them either real or important. The Open Society Institute. Through local efforts to advance justice, education, public health, and independent media, the Open Society Institute focuses on improving policy in ways to help people live in fair and democratic societies.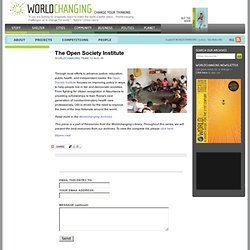 From fighting for citizen recognition in Mauritania to providing scholarships to train Roma's next generation of nondiscriminatory health care professionals, OSI is driven by the need to improve the lives of the less fortunate around the world. Read more in the Worldchanging Archives This piece is a part of Resources from the Worldchanging Library. Throughout this series, we will present the best resources from our archives. To view the complete list, please click here.
---