Urbanization
Cutting Edge: China's Extraordinary Architecture. 108 Giant Chinese Infrastructure Projects. China's Ghost Cities. The following video is the first of the great series on China's ghost cities that Bloomberg is running this week.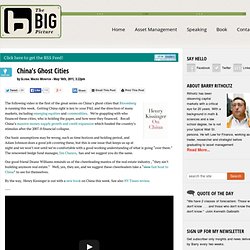 Getting China right is key to your P&L and the direction of many markets, including emerging equities and commodities. We're grappling with who financed these cities, who is holding the paper, and how were they financed. Recall China's massive money supply growth and credit expansion which funded the country's stimulus after the 2007-8 financial collapse. Our basic assumptions may be wrong, such as time horizon and holding period, and Adam Johnson does a good job covering these, but this is one issue that keeps us up at night and we won't rest until we're comfortable with a good working understanding of what is going "over there."
The renowned hedge fund manager, Jim Chanos, has and we suggest you do the same. The myth of China's urbanisation. Author: Kam Wing Chan, University of Washington In the popular media and the business world, urbanisation is often cited as the fundamental driver of global economic growth, especially for the next few decades.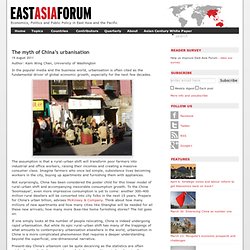 The assumption is that a rural–urban shift will transform poor farmers into industrial and office workers, raising their incomes and creating a massive consumer class. Imagine farmers who once led simple, subsistence lives becoming workers in the city, buying up apartments and furnishing them with appliances. Not surprisingly, China has been considered the poster child for this linear model of rural–urban shift and accompanying inexorable consumption growth. To the China 'boomsayer', even more impressive consumption is yet to come: another 300–400 million rural dwellers will be converted into city folks in the next 15 years. China Rebuilds - Photo Essays. Is China's Architectural Ambition Leaving Its Own Talent Behind?
These days, fanfare and trumpets typically accompany architects when they begin new projects in China — and with good reason.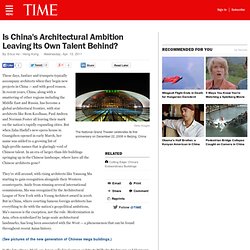 In recent years, China, along with a smattering of other regions including the Middle East and Russia, has become a global architectural frontier, with star architects like Rem Koolhaas, Paul Andreu and Norman Foster all leaving their mark on the nation's rapidly expanding cities. But when Zaha Hadid's new opera house in Guangzhou opened in early March, her name was added to a growing list of high-profile names that is glaringly void of Chinese talent. Migrant Workers in China Face Competition from Robots. Made in China: A 2010 photo shows assembly line workers at a Foxconn plant in Shenzhen, a city in southern China.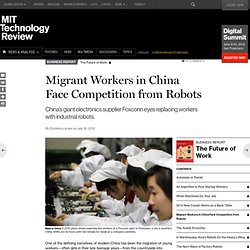 Shifts are 12 hours, with two breaks for meals at a company cafeteria. One of the defining narratives of modern China has been the migration of young workers—often girls in their late teenage years—from the countryside into sprawling cities for jobs in factories.
---