Vision de l'éducation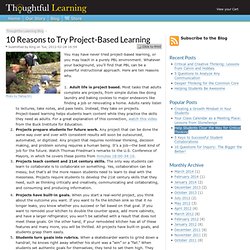 You may have never tried project-based learning, or you may teach in a purely PBL environment. Whatever your background, you'll find that PBL can be a powerful instructional approach. Here are ten reasons why. Adult life is project based.
10 Reasons to Try Project-Based Learning
The Gamified Classroom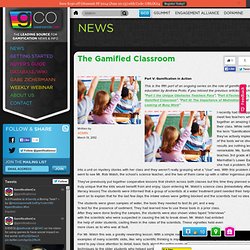 Part V: Gamification in Action This is the fifth part of an ongoing series on the role of gamification in modern education by Andrew Proto. If you missed the previous articles, catch up with "Part I: the Unique Obstacles Teachers Face", "Part II:Technology's Role in a Gamified Classroom", "Part III: The Importance of Motivation", and "Part IV: Looking at Busy Work" I recently had the opportunity to meet two teachers who had put together an amazing lesson for their class. While neither had heard the term "Gamification" before they've actively implemented many of the tools we've discussed. The results are nothing less then remarkable.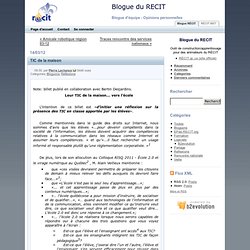 Blogue du RECIT - Article complet: TIC de la maison
Note: billet publié en collaboration avec Bertin Desjardins. Leur TIC de la maison... vers l'école L'intention de ce billet est «d'initier une réflexion sur la présence des TIC en classe apportée par les élèves». Comme mentionnés dans le guide des droits sur Internet, nous sommes d'avis que les élèves «...pour devenir compétents dans la société de l'information, les élèves doivent acquérir des compétences relatives à la communication dans les réseaux comme Internet et assumer leurs compétences. » et qu'«...il faut rechercher un usage informé et responsable plutôt qu'une réglementation corporatiste. »1 De plus, lors de son allocution au Colloque RISQ 2011 - École 2.0 et le virage numérique au Québec2 , M. Alain Veilleux mentionne :