Things That Need Attention
OUYA: A New Kind of Video Game Console by OUYA. We just added game streaming through OnLive!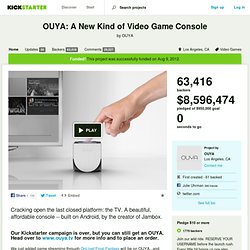 Final Fantasy will be on OUYA...and we have an exclusive game! And VEVO has agreed to put their music videos on OUYA, XBMC adds a streaming media app, with TuneIn and iHeartRadio adding music! We're honored by all of you who are backing us -- THANK YOU. We are focused on delivering for you, first come first served. We can only promise OUYA by March to our Kickstarter backers. 10 useful plants you can find in the wild: Cattails. Taxmoney.jpg (JPEG Image, 3500 × 2334 pixels) - Scaled (27%) California may ban employers from asking for Facebook passwords. SAN FRANCISCO — California is one step closer to becoming one of the first states to ban companies from asking job seekers and workers for their user names and passwords on Facebook and other social networking websites.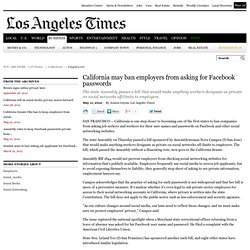 The state Assembly on Thursday passed a bill sponsored by Assemblywoman Nora Campos (D-San Jose) that would make anything workers designate as private on social networks off-limits to employers. The bill, which passed the Assembly without a dissenting vote, now goes to the California Senate. Assembly Bill 1844 would not prevent employers from checking social networking websites for information that's publicly available. Employers frequently use social media to screen job applicants, but to avoid exposing themselves to liability, they generally stop short of asking to see private information, employment lawyers say.
Campos acknowledges that the practice of asking for such passwords is not widespread and that her bill is more of a preventive measure. BREAKING: You Know That TED Talk You Weren't Supposed To See? Here It Is. Presented in partnership with Nick Hanauer, self described "super-rich" entrepreneur, gave a fantastic TED Talk about how the middle class—not the super-rich—are the real job creators.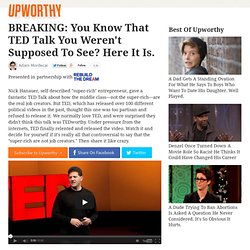 But TED, which has released over 100 different political videos in the past, thought this one was too partisan and refused to release it. We normally love TED, and were surprised they didn't think this talk was TEDworthy. If Iceland adopts the loonie, Greenland could soon follow: economist. To restart an icy economy and free its citizens from strict Soviet-style money controls, all Iceland needs is a single planeload of Canadian dollars, a pair of Iceland economists told a packed Bay Street conference room Monday afternoon.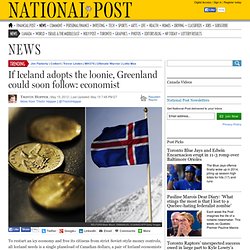 "It would fit nicely in a small plane, we just have to make sure it doesn't get lost on the way," said Heidar Gudjonsson, an investment manager and the chairman of Iceland's Centre for Social and Economic Research. Mr. Gudjonsson, along with University of Iceland finance professor Ársæll Valfells, were in Toronto on Tuesday to make the first pitch to a Canadian audience on a unorthodox proposal to to pull the debt-ridden Nordic state from recession by abandoning the Icelandic krona for the Canadian dollar.
Iceland was one of hardest hit by the 2008 financial collapse, rendering its currency effectively worthless. To prevent wealth from fleeing the country, Icelanders are on their fourth year of living under strict capital controls. Why have we heard nothing about this incredibly important development in Iceland? News black-out?!? NYTimes: In the go-go years leading up to the financial crisis, Iceland's banks were hugely irresponsible, luring foreign depositors with high interest rates and putting the money into risky loans.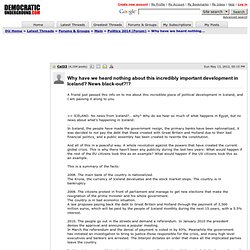 CISPA is not the new SOPA: Here's why. Americans brace for next foreclosure wave. US students need new way of learning science. American students need a dramatically new approach to improve how they learn science, says a noted group of scientists and educators led by Michigan State University professor William Schmidt.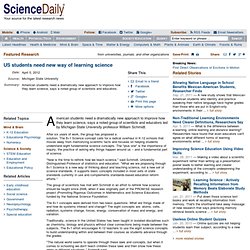 After six years of work, the group has proposed a solution. The 8+1 Science concept calls for a radical overhaul in K-12 schools that moves away from memorizing scientific facts and focuses on helping students understand eight fundamental science concepts. Facebook misses March deadline following privacy audit. This past December, Ireland's Data Protection Commissioner (DPC) completed his three-month privacy audit of Facebook's activities.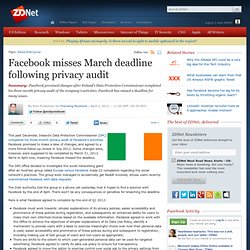 Facebook promised to make a slew of changes, and agreed to a more formal follow-up review in July 2012. Some changes were, however, were supposed to be completed by March 31, 2012. We're in April now, meaning Facebook missed the deadline. The DPC office decided to investigate the social networking giant after an Austrian group called Europe versus Facebook made 22 complaints regarding the social network's practices. The group even managed to accidentally get Reddit involved, whose users recently overwhelmed Facebook with data requests.
Aww shit. Here we go again. Again. CISPA - HR 3525. AKA Return of the SOPA. : politics. SpaceWeather.com -- News and information about meteor showers, solar flares, auroras, and near-Earth asteroids. Your best source for breaking news. Uprooting 30,000 Bedouin in Israel. Beer-Sheva, Israel - "It is not every day that a government decides to relocate almost half a per cent of its population in a programme of forced urbanisation," Rawia Aburabia asserted, adding that "this is precisely what Prawer wants to do".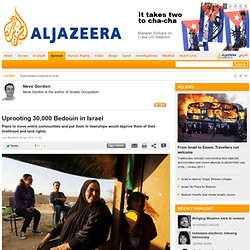 The meeting, which was attempting to coordinate various actions against the Prawer Plan, had just ended, and Rawia, an outspoken Bedouin leader who works for the Association for Civil Rights in Israel, was clearly upset. She realised that the possibility of changing the course of events was extremely unlikely and that, at the end of the day, the government would uproot 30,000 Negev Bedouin and put them in townships. This would result in an end to their rural way of life and would ultimately deprive them of their livelihood and land rights. Rawia's wrath was directed at Ehud Prawer, the Director of the Planning Policy Division in Prime Minister Binyamin Netanyahu's office.
China's Wen says bank monopoly must be broken: state media. ZEITGEIST: MOVING FORWARD | OFFICIAL RELEASE | 2011. Studies show how pesticides make bees lose their way. ZEITGEIST: MOVING FORWARD | OFFICIAL RELEASE | 2011.
---