Search
せどりアナライザーvsせどりキング3の電脳せどり せどりアナライザーは確かにすばらしいソフトです。 持っててかなりアドバンテージになるかもしれません。 しかし、せどりアナライザーだけ持っていても稼げません。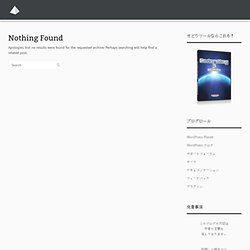 Tweetbots - Stalk, Track, Auto-Follow, Re-Tweet, Feed-Tweet with
Twitter Top 100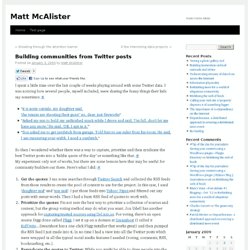 I spent a little time over the last couple of weeks playing around with some Twitter data. I was noticing how several people, myself included, were sharing the funny things their kids say sometimes: # So then I wondered whether there was a way to capture, prioritize and then syndicate the best Twitter posts into a 'kiddie quote of the day' or something like that
Matt McAlister » Building communities from Twitter posts
What's this? Each line in this chart represents a topic's mentions (y-axis: mentions every 100K tweets) over the last 7 days (x-axis) The colored areas represent periods of time in which the topic was hot, the darker areas show the time with the most mentions of the topic. You can click on the areas to change the detail of that topic to be focused on that particular popular interval. You can double click the areas to zoom in to them.
Summize Conversational Search
Movers & Shakers: Christmastime is here.