Camera
Textures And Objects. Gimp-tutorials.net - Gimp , tutorials , brushes , downloads, forum. How To Create Lomo Look-Alike Photographs Using GIMP. If you're new here, you may want to subscribe to my RSS feed.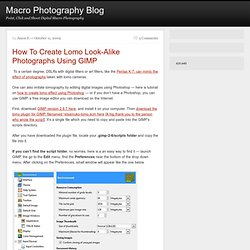 Thanks for visiting! To a certain degree, DSLRs with digital filters or art filters, like the Pentax K-7, can mimic the effect of photographs taken with lomo cameras. One can also imitate lomography by editing digital images using Photoshop — here is tutorial on how to create lomo effect using Photoshop — or if you don't have a Photoshop, you can use GIMP, a free image editor you can download on the Internet. Add colors to your pics : Lomo Effect.
While browsing through some photoshop tutorials, I came across 'Lomo Effect'.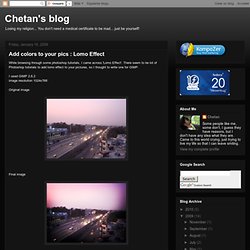 There seem to be lot of Photoshop tutorials to add lomo effect to your pictures, so I thought to write one for GIMP. I used GIMP 2.6.2image resolution 1024x768.
---