Possible projects
A bit of green :: arts :: crafts. Hello everyone!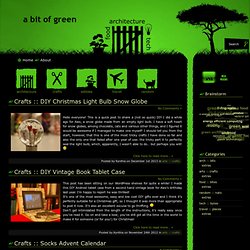 This is a quick post to share a (not so quick) DIY I did a while ago for Alex, a snow globe made from an empty light bulb. I have a soft heart for snow globes, among chocolate, cats and various other things, and I figured it would be awesome if I managed to make one myself! I should tell you from the start, however, that this is one of the most tricky crafts I have done so far and also the only one that failed after one year of use: the tricky part it to perfectly seal the light bulb, which, apparently, I wasn't able to do… but perhaps you will!
Posted by Kynthia on December 1st 2013 in arts :: crafts. A bit of green :: Crafts :: Plastic Cup Lamp. Now that my university is closed for winter holidays, I finally have more free time to do all the crafty things I've been wanting to.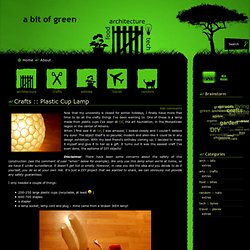 One of these is a lamp made from plastic cups I've seen at taf, the art foundation, in the Monastiraki region in the center of Athens. When I first saw it at taf, I was amazed; I looked closely and I couldn't believe my eyes! The object itself is so peculiar, modern and alien-like it could be in any design exhibition. COTTONMONSTER.COM. How to make gift bags from newspaper. When I bought something at a store recently, the clerk handed me my purchase in a bag made from a newspaper.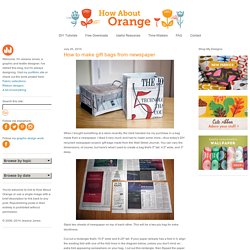 I liked it very much and had to make some more—thus today's DIY recycled newspaper project: gift bags made from the Wall Street Journal. You can vary the dimensions, of course, but here's what I used to create a bag that's 5" tall, 4.5" wide, and 3" deep. Stack two sheets of newspaper on top of each other. This will be a two-ply bag for extra sturdiness. Cut out a rectangle that's 15.5" wide and 8.25" tall. Marble magnets. I finally gave in and made marble magnets.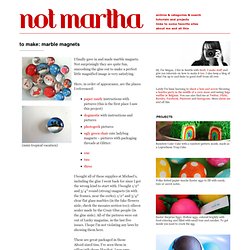 Not surprisingly they are quite fun, smooshing the glue out to make a perfect little magnified image is very satisfying. Here, in order of appearance, are the places I referenced: paper candy instructions with pictures (this is the first place I saw this project) dogmestic with instructions and pictures photogeek pictures ugly green chair cute ladybug magnets – pictures with packaging threads at Glitter:onetwothree I bought all of these supplies at Michael's, including the glue I went back for since I got the wrong kind to start with.
---