Harry Potter
One day, maybe 13 years ago, my 5th grade teacher opened a book up after lunch and started reading from it. It seems remarkable to me now, 13 years later, that I have absolutely no recollection of that day.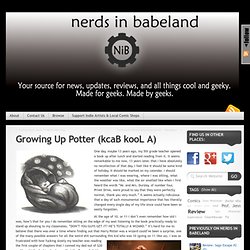 Growing Up Potter (kcaB kooL A) | Nerds in Babeland
Think the US / British Harry Potter Book Covers Are Cool? Then You Have to Check Out the Swedish Versions.. – Dog and Pony Show - Better at the internet than you...
Latest property news Landlords: Make sure you check your property's inventory Landlords across the UK have been advised once again that the ever changing face of the rental market means they need to keep tabs on how they deal with tenants and their contracts to ensure they bring in the profits they are used to.
Harry Potter homes: The £24 million worth of property paid for by a blockbuster