Decor
Tiny Victorian Cottage [via The New York Times "Home&Garden"] The most adorable little victorian cottage ever. Sandra Foster turned a Catskills hunting cabin into the romantic Victorian cottage she had always wanted, using vintage columns, flooring and wavy glass windows, and doing the carpentry herself. This cottage is only accessible via a stone crossing over a stream. La cabaña más pequeña y adorable del mundo. Sandra Foster transformó una cabina de caza en la cabaña que ella había querido siempre usando columnas vintage, suelos y ventanas de cristal ondulado y haciendo los trabajos de carpintería ella misma.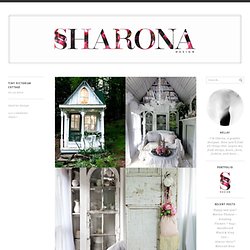 Thanks to paint that dries into a chalkboard finish, your board can be whatever size you desire and placed wherever you like. Store-bought formulas come in traditional green and black. But you can also follow our recipe to mix your own batch in any shade. Cleverly applied chalkboard paint means new places to track appointments, keep lists, and leave messages. Or simply use the surface to draw or doodle, which will appeal to kids and the kid in everyone. Choose from the following ideas or come up with your own homemade chalkboard location.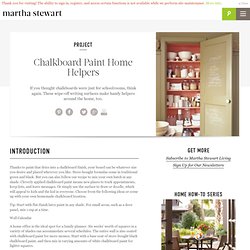 SEE THIS HOUSE: BARN RAISING STYLE!
This is the photo that got me busy writing this ideabook. I had never before seen a glass-sided bathtub, and this one completely appeals to my minimalist tendencies. The architect, David Stern, says the client wanted this custom made tub for the kids bathroom and wanted it to feel fresh and fun. Well, he succeeded.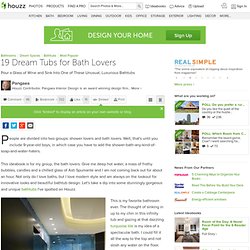 40 Decorating Tips for Your Living Room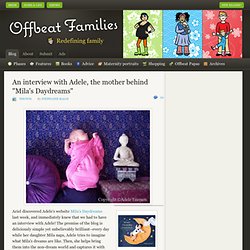 In January 2012, Harper Collins published Adele's book called "When My Baby Dreams," filled of the pictures from Mila's Daydreams! You can purchase the book on Amazon. Ariel discovered Adele's website Mila's Daydreams last week, and immediately knew that we had to have an interview with Adele! The premise of the blog is deliciously simple yet unbelievably brilliant–every day while her daughter Mila naps, Adele tries to imagine what Mila's dreams are like.
An interview with Adele, the mother behind "Mila's Daydreams"
Dream Kitchen and Bath Gallery tool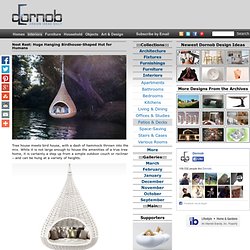 Tree house meets bird house, with a dash of hammock thrown into the mix. While it is not large enough to house the amenities of a true tree home, it is certainly a step up from a simple outdoor couch or recliner – and can be hung at a variety of heights. The resemblance goes more than skin deep, with a woven wood-like structure that parallels the way in which nests are built in nature. ?The result is a semi-enclosed, seclusion-granting space to relax that nonetheless breathes (though, to do so, sacrifices potential rain protection). Almost as neat as the organic design by Dedon itself are the suggested implementations. Some are a bit fanciful, but others seem realistic assuming you have access to a large and sturdy tree.
what a makeover! this made me feel 'myownapartamentsick' even more than ever :)bulb-lamp is great, i also made something like that, but there were less bulbs so the effect wasn't that stunning. love the shower, look really great, also the brick wall and, what surprised me, that green tone in the bedroom. you had great ideas and you fortunately put them into effect. the one thing i dislike is a study room. i hate that desk and chair, they just so boring actually. but i adore the red wall and those cat-things, sorry, i have no idea how to call it. ;)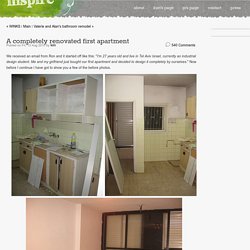 12 Ways to Repurpose Home Furnishings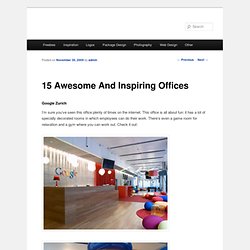 I'm sure you've seen this office plenty of times on the internet. This office is all about fun: it has a lot of specially decorated rooms in which employees can do their work. There's even a game room for relaxation and a gym where you can work out. Check it out: The Selgas Cano Architecture office, designed by Iwan Baan, makes you feel like a part of nature.
World's Most Luxurious Celebrity Homes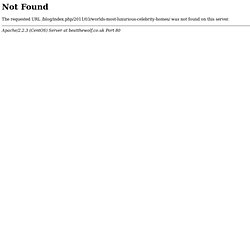 Only 7 bedrooms? Are you kidding me…who do you think we are! With celebrity life comes fame and fortune, something most A-listers use to splash out on cars, plastic surgery and every fad going. However some of these high flyers take the more extravagant option; spend millions on a home and refurbish it inside and out. Here are some of the most luxurious refurbished homes owned by celebrities.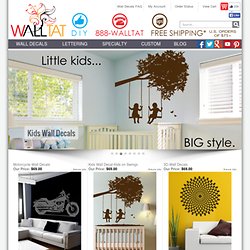 Wall decals by WALLTAT are artistic vinyl decals for the do it yourself enthusiasts looking to quickly and easily decorate their walls or other interior surfaces. WALLTAT Wall Decals are fun, easy to install and compared to other wall finishing and wall decor alternatives, very inexpensive. Talk about getting maximum visual impact in a very cost effective manner. The best part of all is that you can install them yourself. These adhesive vinyl wall decals can be applied to virtually any surface!
I recall an infomercial a few years back for a little plastic triangle that stuck in a corner, between two walls, to make a small corner shelf. I don't remember the exact name of the product, but I do remember that the commercial exhausted all the obvious self/shelf puns: "shelf esteem," "shelf confidence," "shelf defense," "shelf-employed," etc., etc. So I'll forgo the obvious opportunities this topic offers for shelf-referential humor and just get down to business. How-To: Turn Shelf Fungi Into Actual Shelves Bookshelf From Old Books