Lifestyle
Acting
Creative Guest Books | Love and Lavender. We've rounded up some more creative guest books that would be a little more interesting to read through later than your standard guestbook.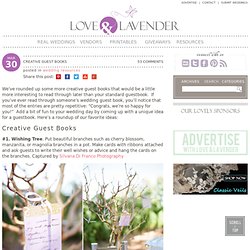 If you've ever read through someone's wedding guest book, you'll notice that most of the entries are pretty repetitive: "Congrats, we're so happy for you!" Add a bit of fun to your wedding day by coming up with a unique idea for a guestbook. Here's a roundup of our favorite ideas: #1. Wishing Tree. Beauty. Log in to your Shop It To Me account | Shop It To Me. Unique Gift Ideas, Unusual Gifts & Birthday Presents | FreshTrend Shopping Blog.
Fold-your-shirt.com.
---