Spieleseiten
Assassin's Creed (360,PC,PlayStation3): Test, News, Video, Bilder, Wertung und Download - 4Players. Legenden von Andor | Willkommen.
BioWare Warhammer Online - Play4Free. SacredWiki - SacredWiki. Sacred 3: Another Trailer!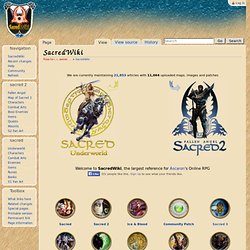 Slow Motion Gameplay! This is a Slow Motion version of the Sacred 3 Gameplay trailer released March 19th which emphasizes the gameplay aspect of the trailer in all its glory! Sacred 3 Official Trailer Released! Deep Silver has announced action role-playing game Sacred 3 will be released this summer on PC, PlayStation 3 and Xbox 360! Sacred 3 will feature classical hack and slash combat and drop-in, drop-out online and offline co-op. Sacred Legends - Die offizielle deutsche Sacred 2 Fansite.
---