Spieleseiten
Assassin's Creed (360,PC,PlayStation3): Test, News, Video, Bilder, Wertung und Download - 4Players
Legenden von Andor | Willkommen
Das Land Andor ist in Gefahr. Aus den Wäldern und dem Gebirge rücken die Feinde König Brandurs näher. Nur eine kleine Heldengruppe stellt sich ihnen mutig entgegen. Ihr schlüpft in die Rollen von Zwerg, Bogenschützin, Zauberin und Krieger, um eure unterschiedlichen Fähigkeiten gemeinsam zu nutzen. Werdet ihr gemeinsam alle Abenteuer und Gefahren bestehen? "Die Legenden von Andor" ist ein kooperatives Spiel für 2-4 Helden, erschienen im KOSMOS Verlag.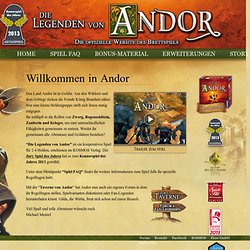 BioWare Warhammer Online - Play4Free
SacredWiki - SacredWiki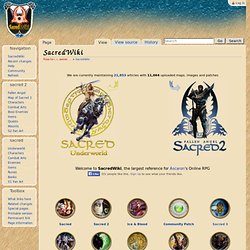 Sacred 3: Another Trailer! Slow Motion Gameplay! This is a Slow Motion version of the Sacred 3 Gameplay trailer released March 19th which emphasizes the gameplay aspect of the trailer in all its glory! Sacred 3 Official Trailer Released! Deep Silver has announced action role-playing game Sacred 3 will be released this summer on PC, PlayStation 3 and Xbox 360! Sacred 3 will feature classical hack and slash combat and drop-in, drop-out online and offline co-op.
Sacred Legends - Die offizielle deutsche Sacred 2 Fansite