Becas y oportunidades
Find A Masters Mobile Site | Platform Request
MSc Applied Technologies: Rapid Prototyping and Digital Technologies
The Bicentennial Swedish-American Exchange Fund
The application period for 2014 has now closed. General criteria Country The Bicentennial Swedish-American Exchange Fund is open to applicants from the United States. Study levels The scholarship is intended for professional enrichment and is thus not applicable to studies or work related to academic degrees.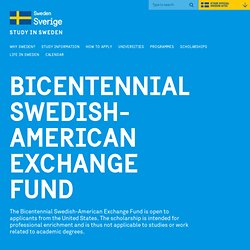 The Swedish Institute Study Scholarships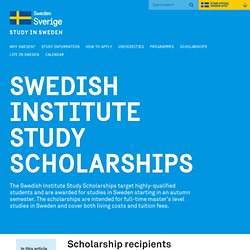 Scholarship recipients 2014/2015 Click here for the list of recipients for 2014/2015. Who is eligible? The scholarships are only intended for students who are required to pay tuition fees according to the information at University Admissions. There is no age limit for scholarship holders.
Scholarship for foreign university students | JCMM - Jihomoravské centrum pro mezinárodní mobilitu
The programme Scholarship for foreign students supports foreign students from the third countries out of European Union who want to study at one of the universities in the South Moravian region in the Czech republic, in the Czech study programmes. Knowledge of Czech language is required. Scholarship (monthly 6000 Czech crown - approx. 220EUR) for the first study year - to cover basic living costs (if students achieves good study results during the first study year, they obtain scholarship straight from the university in the following years). There is no tuition fee for students attending study programs in Czech language.Free administrative assistance and consultancy – help with university entrance exams procedure and during the first study year in the South Moravian region (diploma recognition, information service, visa, study matters etc.)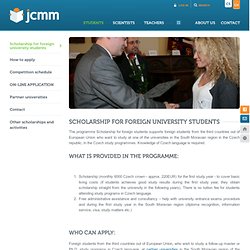 The New Zealand Aid Programme is the New Zealand Government's international aid and development programme managed by the Ministry of Foreign Affairs and Trade. | New Zealand Aid Programme
The success of Vanuatu's Millenium Cave Tours, with support from Volunteer Service Abroad and the New Zealand Aid Programme, has led to better access to education on Santo Island. In February, the Millennium Cave School Project celebrated the opening of a new local school, which will serve all eight villages in the area.Previously, children faced several hours' walk to reach their nearest school, which was founded by Millenium Cave Tours manager... New Zealand contributes to the International Development Association (IDA) of the World Bank. The IDA is one of the largest sources of development finance provides grants and concessional loans to support health, education, infrastructure, agriculture, economic, and institutional development in the world's poorest countries. New Zealand has participated in IDA since the early 1970s, contributing over US$293 million. Every three years,...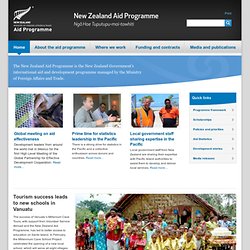 Roski School of Fine Arts
Are you looking to earn some extra money to supplement your student budget and haven't found the right job yet? In the following series, we present unusual ways to earn money in interesting side jobs. This week – Part 1: Jobs in the Great Outdoors. by Britta Simon
Special Student Jobs - Study in Germany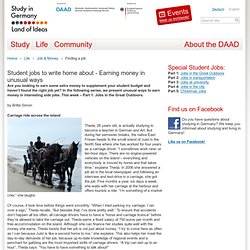 Careers
Plataforma Integrada Carlos Chagas
Becas y Convocatorias
Se otorgan becas para realizar estudios de Licenciatura en: • Política y administración pública (promoción 2014 - 2018) • Relaciones internacionales (promoción 2014-2018) La Convocatoria abre el 3 de marzo y cierra el 2 de mayo de 2014. Los programas están dirigidos a los nacionales de los países considerados en esta Convocatoria.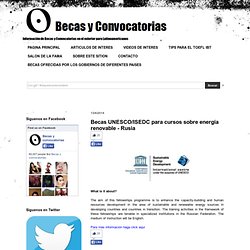 List of universities and colleges in Slovakia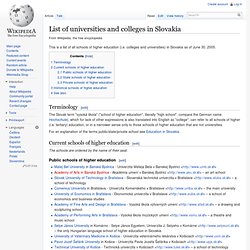 This is a list of all schools of higher education (i.e. colleges and universities) in Slovakia as of June 30, 2005. Terminology[edit] The Slovak term "vysoká škola" ("school of higher education", literally "high school", compare the German name Hochschule), which for lack of other expressions is also translated into English as "college", can refer to all schools of higher (i.e. tertiary) education, or in a narrower sense only to those schools of higher education that are not universities. For an explanation of the terms public/state/private school see Education in Slovakia.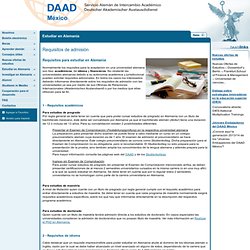 Requisitos para estudiar en Alemania Normalmente los requisitos para la aceptación en una universidad alemana son tres: académicos, de idioma y financieros. No obstante las universidades alemanas debido a su autonomía académica y jurisdiccional pueden solicitar requisitos adicionales. En todos los casos los interesados deberán informarse directamente sobre los requisitos de admisión con las universidades ya sea por medio de sus Oficinas de Relaciones Internacionales (Akademisches Auslandsamt) o por los medios que ellas ofrezcan para tal fin.
Oficina México, D.F. - Requisitos de admisión
sterreichischer Austauschdienst - Ernst Mach Grant
portalsej.jalisco.gob.mx/sites/default/files/cartelera_2011_difusion_realizada.pdf
Cartelera de becas y programas de estudio al extranjero 2011 | Secretaría de Educación Jalisco
Blog Estudiar fuera – Blog Universia » Consigue tu beca Erasmus Mundus para estudiar un Máster o un Doctorado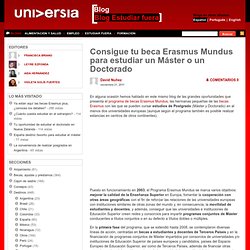 En alguna ocasión hemos hablado en este mismo blog de las grandes oportunidades que presenta el programa de becas Erasmus Mundus, las hermanas pequeñas de las becas Erasmus con las que se pueden cursar estudios de Postgrado (Máster y Doctorado) en al menos dos universidades europeas (aunque según el programa también es posible realizar estancias en centros de otros continentes). Puesto en funcionamiento en 2003, el Programa Erasmus Mundus se marca varios objetivos: mejorar la calidad de la Enseñanza Superior en Europa, fomentar la cooperación con otras áreas geográficas con el fin de reforzar las relaciones de las universidades europeas con instituciones similares de otras zonas del mundo y, en consecuencia, la movilidad de estudiantes y docentes, y además, conseguir que las universidades e instituciones de Educación Superior creen redes y consorcios para impartir programas conjuntos de Máster conducentes a títulos conjuntos o en su defecto a títulos dobles o múltiples.
Admission - Roski School of Fine Arts
The M.A. program is currently accepting applications for Fall 2014. Application deadline is February 1, 2014. For more information, please contact the M.A. program office at 213.743.1804 or MApublic@usc.edu to arrange a meeting with the M.A. Program Coordinator, Dwayne Moser.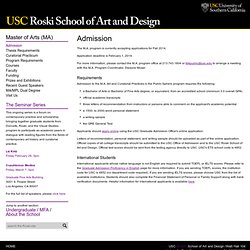 Roski School of Fine Arts - USC Graduate Admission
Located in the nation's leading center of contemporary arts and culture, the USC Roski School of Art and Design draws from a large pool of leading artists, writers and critics in Los Angeles to augment the distinguished full-time teaching staff. Traditional arts are fully integrated with digital technology. Facilities include a sophisticated intermedia lab, two spacious and well-equipped photography studios, and three on-campus galleries.
n.o. - Research in Slovakia
Home » Research in Slovakia Entry Conditions and Legal Stay and WorkLink to a complex and detailed information compiled by EURAXESS Slovakia. Legislative framework of research and development in SlovakiaLink to information compiled by EURAXESS Slovakia.
sre.gob.mx/images/stories/docbecas/convocatoria/repeslv-doctorado.pdf
Programa Nacional de Becas - solicitantes extranjeros
La creación del Programa Nacional de Becas de la República Eslovaca (NSP) para apoyar la movilidad de los estudiantes universitarios, estudiantes de doctorado, profesores universitarios, investigadores y artistas fue aprobada por el Gobierno de la República Eslovaca en el año 2005. El Programa Nacional de Becas de la República Eslovaca es financiado por el Ministerio de Educación, Ciencia, Investigación y Deporte de la República Eslovaca. El Programa Nacional de Becas de la República Eslovaca va destinado al apoyo de la movilidad de los estudiantes universitarios, estudiantes de doctorado, profesores universitarios, investigadores y artistas procedentes de países extranjeros para las estancias en universidades eslovacas u organizaciones de investigación en Eslovaquiauia. La beca financiada por el Programa Nacional de Becas de la República Eslovaca la pueden solicitar las siguientes personas:
VŠVU - Štúdijné programy
VŠVU poskytuje vysokoškolské vzdelávanie v rámci študijných odborov podľa akreditovaných študijných programov. Študijné programy sa uskutočňujú v troch stupňoch. VŠVU poskytuje vysokoškolské vzdelávanie v rámci študijných odborov podľa akreditovaných študijných programov. Študijné programy sa uskutočňujú v troch stupňoch.
www.scholarships.sk/_user/documents/NSP/Výsledky výberových konaní/zahranicni/NSP_zahr_2011-5-15.pdf
National Scholarship Programme - Programme Terms and Conditions
sre.gob.mx/images/stories/docbecas/convocatoria/austria.pdf
Upper Austria
FHK: Home
Faculty of Design
Default
sterreichischer Austauschdienst - To the Database
Österreichischer Austauschdienst: STUDIEREN  UND FORSCHEN IN ÖSTERREICH
Ministry of Education, Youth and Sports
Embajada de México en la República Checa
Schools and Departments | Central European University
Embajada de Bélgica en México