Becas y oportunidades
Find A Masters Mobile Site | Platform Request
MSc Applied Technologies: Rapid Prototyping and Digital Technologies
Ravensbourne's MSc Applied Technologies is a unique opportunity to explore and develop ideas using the fast-evolving technologies that are set to become one of the most significant developments of the 21st century. Pushing the boundaries The course encourages a collaborative approach across a diverse range of disciplines with a focus on challenging the equipment and developing projects that push the boundaries of what can be expected from it.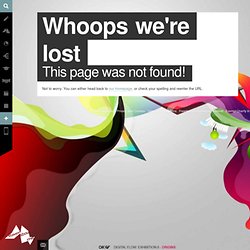 Fondeadora
The Bicentennial Swedish-American Exchange Fund
The application period for 2013 is now passed. The application deadline was November 15, 2012. Decisions will be announced in February 2013 by the Swedish Institute. General criteria Country The Bicentennial Swedish-American Exchange Fund is open to applicants from the United States. Study levels The scholarship is intended for professional enrichment and is thus not applicable to studies or work related to academic degrees.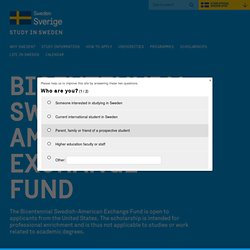 www.studyinsweden.se/upload/studyinsweden_se/Documents/SI Study Scholarships - Eligible Study Programs-2012.pdf
The Swedish Institute Study Scholarships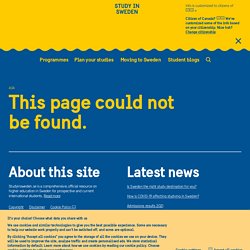 The Swedish Institute Study Scholarships target highly-qualified students from the countries listed below. The scholarships will be awarded for studies in Sweden, starting in August 2013 and covers both living costs and tuition fees. The application period for the academic year 2013/2014 is now passed.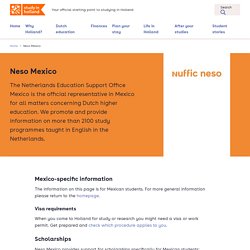 The Orange Tulip Scholarship — Nuffic Neso Mexico
Please visit the homepage of Nuffic Neso Mexico : www.nesomexico.org If you know you have the correct web address but are encountering an error, please send a mail to webmaster[@]nuffic.nl Thank you.
Orange Tulip Scholarship sponsors — Nuffic Neso Mexico
Please visit the homepage of Nuffic Neso Mexico : www.nesomexico.org If you know you have the correct web address but are encountering an error, please send a mail to webmaster[@]nuffic.nl Thank you. 404 Not Found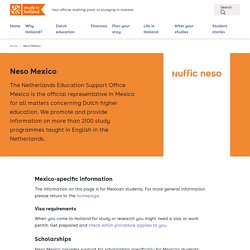 Scholarship for foreign university students | JCMM - Jihomoravské centrum pro mezinárodní mobilitu
The programme Scholarship for foreign students supports foreign students from the third countries out of European Union who want to study at one of the universities in the South Moravian region in the Czech republic, in the Czech study programmes. Knowledge of Czech language is required. Scholarship (monthly 6000 Czech crown - approx. 220EUR) for the first study year - to cover basic living costs (if students achieves good study results during the first study year, they obtain scholarship straight from the university in the following years). There is no tuition fee for students attending study programs in Czech language. Free administrative assistance and consultancy – help with university entrance exams procedure and during the first study year in the South Moravian region (diploma recognition, information service, visa, study matters etc.)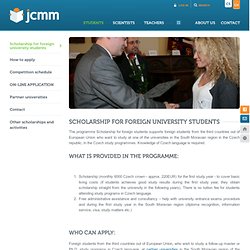 The New Zealand Aid Programme is the New Zealand Government's international aid and development programme managed by the Ministry of Foreign Affairs and Trade. | New Zealand Aid Programme
Roski School of Fine Arts
Are you looking to earn some extra money to supplement your student budget and haven't found the right job yet? In the following series, we present unusual ways to earn money in interesting side jobs. This week – Part 1: Jobs in the Great Outdoors. by Britta Simon Carriage ride across the island
Special Student Jobs - Study in Germany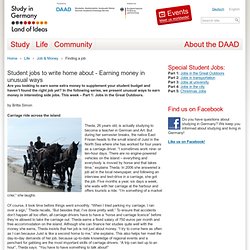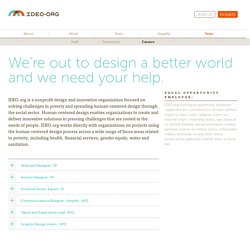 Careers
We are looking for a highly motivated Executive Assistant with a start-up mentality to join our team in San Francisco. Part Executive Assistant, part cultural liaison, part project manager for internal initiatives, this individual will provide high-level support to both the Executive Director and Creative Director of IDEO .org, including daily tasks such as scheduling, email management, travel planning, and logistics. He/she will provide administrative support across a variety of projects within this organization. This position is an amazing opportunity for a highly proactive, collaborative, creative, and engaged personality. Individuals who will flourish in this role will come from fast-paced, start-up environments where changing gears constantly is the norm. This role demands an entrepreneurial individual with a high level of discretion, empathy, and self-motivation.
Plataforma Integrada Carlos Chagas
Becas y Convocatorias
List of universities and colleges in Slovakia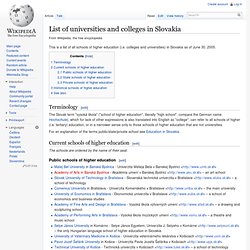 This is a list of all schools of higher education (i.e. colleges and universities) in Slovakia as of June 30, 2005. [ edit ] Terminology The Slovak term "vysoká škola" ("school of higher education", literally "high school", compare the German name Hochschule ), which for lack of other expressions is also translated into English as "college", can refer to all schools of higher (i.e. tertiary) education, or in a narrower sense only to those schools of higher education that are not universities. For an explanation of the terms public/state/private school see Education in Slovakia .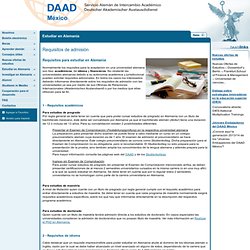 Requisitos para estudiar en Alemania Normalmente los requisitos para la aceptación en una universidad alemana son tres: académicos , de idioma y financieros . No obstante las universidades alemanas debido a su autonomía académica y jurisdiccional pueden solicitar requisitos adicionales. En todos los casos los interesados deberán informarse directamente sobre los requisitos de admisión con las universidades ya sea por medio de sus Oficinas de Relaciones Internacionales ( Akademisches Auslandsamt ) o por los medios que ellas ofrezcan para tal fin.
Oficina México, D.F. - Requisitos de admisión
sterreichischer Austauschdienst - Ernst Mach Grant
Banco de datos de becas
Posibilidades de apoyo
ame-bec-Becas
portalsej.jalisco.gob.mx/sites/default/files/cartelera_2011_difusion_realizada.pdf
Cartelera de becas y programas de estudio al extranjero 2011 | Secretaría de Educación Jalisco
Blog Estudiar fuera – Blog Universia » Consigue tu beca Erasmus Mundus para estudiar un Máster o un Doctorado
En alguna ocasión hemos hablado en este mismo blog de las grandes oportunidades que presenta el programa de becas Erasmus Mundus , las hermanas pequeñas de las becas Erasmus con las que se pueden cursar estudios de Postgrado (Máster y Doctorado) en al menos dos universidades europeas (aunque según el programa también es posible realizar estancias en centros de otros continentes). Puesto en funcionamiento en 2003 , el Programa Erasmus Mundus se marca varios objetivos: mejorar la calidad de la Enseñanza Superior en Europa, fomentar la cooperación con otras áreas geográficas con el fin de reforzar las relaciones de las universidades europeas con instituciones similares de otras zonas del mundo y, en consecuencia, la movilidad de estudiantes y docentes , y además, conseguir que las universidades e instituciones de Educación Superior creen redes y consorcios para impartir programas conjuntos de Máster conducentes a títulos conjuntos o en su defecto a títulos dobles o múltiples.
Admission - Roski School of Fine Arts
The M.A. program is currently accepting applications for Fall 2013. For applications submitted after February 15th, we encourage completion as soon as possible. For more information, please contact the M.A. program office at 213.743.8540 or MApublic@usc.edu to arrange a meeting with the M.A. Program Coordinator, Elizabeth Lovins.
Roski School of Fine Arts - USC Graduate Admission
Located in the nation's leading center of contemporary arts and culture, the USC Roski School of Fine Arts draws from a large pool of leading artists, writers and critics in Los Angeles to augment the distinguished full-time teaching staff. Traditional arts are fully integrated with digital technology. Facilities include a sophisticated intermedia lab, two spacious and well-equipped photography studios, and three on-campus galleries.
n.o. - Research in Slovakia
Home » Research in Slovakia Visa and residence permit Link to the website of the Ministry of Foreign Affairs of the Slovak Republic - Consular information. Slovak EURAXESS portal Information about research landscape in Slovakia, practical information for researchers coming to Slovakia (visa and residence permit, taxation, social and health insurance, etc.).
sre.gob.mx/images/stories/docbecas/convocatoria/repeslv-doctorado.pdf
Programa Nacional de Becas - solicitantes extranjeros
La creación del Programa Nacional de Becas de la República Eslovaca en apoyo de la movilidad de los estudiantes universitarios, estudiantes de doctorado, profesores universitarios, investigadores y artistas fue aprobada por el Gobierno de la República Eslovaca en el año 2005. El Programa Nacional de Becas de la República Eslovaca es financiado por el Ministerio de Educación, Ciencia, Investigación y Deporte de la República Eslovaca. El Programa Nacional de Becas de la República Eslovaca va destinado al apoyo de la movilidad de los estudiantes universitarios, estudiantes de doctorado, profesores universitarios, investigadores y artistas procedentes del extranjero para las estancias en las Universidades Eslovacas o las organizaciones de investigación en Eslovaquia. A quién va dirigido: La beca financiada por el Programa Nacional de Becas de la República Eslovaca la pueden solicitar las siguientes personas
Programa Nacional de Becas - Una nueva fase del Programa Nacional de Becas
VŠVU - Štúdijné programy
www.scholarships.sk/_user/documents/NSP/Výsledky výberových konaní/zahranicni/NSP_zahr_2011-5-15.pdf
National Scholarship Programme - Programme Terms and Conditions
sre.gob.mx/images/stories/docbecas/convocatoria/austria.pdf
Upper Austria
FHK: Home
Faculty of Design
Default
sterreichischer Austauschdienst - To the Database
sterreichischer Austauschdienst - Grants & Scholarships
sterreichischer Austauschdienst - Ernst Mach Grant
Österreichischer Austauschdienst: STUDIEREN  UND FORSCHEN IN ÖSTERREICH
Ministry of Education, Youth and Sports
Scholarships for the Academic Year 2012/2013, MŠMT ČR
Embajada de México en la República Checa
Schools and Departments | Central European University
Embajada de Bélgica en México