Gadgets / design uk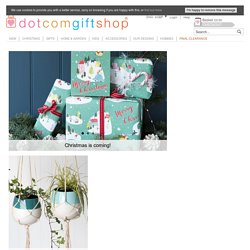 Fathers day gifts for him | Gifts for her | Online gift shop
I suppose you could call these ranges our 'essentials' collection as they're products that consistently generate interest. For starters, our super cute and colourful hot water bottles are a must-see and are ideal for keeping you stylishly warm and toasty. Make sure you check out our funky doormats too, which look great and are ideal for preventing people from treading the outside in.
Dotcomgiftshop
Stylish stationery, designer paper goods, desk accessories, contemporary cards by Quill London
http://www.makingthenews.co.uk/
accessories, kitchen | Umbra
www.createthatlook.com
Innermost | Quintessentially Global Style
Unusual Gifts | Gift Shop
Online Fashion, Dresses, Jewellery, Homewares, Furniture Shop | Oliver Bonas | Oliver Bonas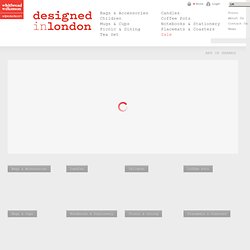 Whitbread and Wilkinson
Designed In London Designed in London is a new shop curated by Whitbread Wilkinson and specialising in designer gifts, homewares, and stationary for all ages. If you are stuck for inspiration our website is the perfect place to browse for ideas, offering a large range of delightful items and presents for sale. Majoring in stylish, modern and sometimes quirky products to suit all personalities and ages; whether you are looking for a designer tea set, a gift for a child for their birthday or Christmas or something for yourself, Designed in London caters for your needs. Designed in London features pieces from Whitbread Wilkinson, Pantone Universe™, The National Gallery, Eames® Office and recently Disney – our newest partner.
Snowden Flood | Home Is Where the Art Is
Unique Gift Ideas | Novelty Gifts for Men | Birthday Presents for men | Luckies online store
Home
Joseph Joseph | Stylish Kitchen and Cookware Accessories, Utensils and Gadgets
Started in 2000, WhereDidYouBuyThat.com was hailed at the time of is launch as 'seductive online shopping verging on retail porn'. Celebrating our 13th Anniversary and still living up to our reputation, WhereDidYouBuyThat.com brings together over 1500 products, offering the most desirable, seductive and fun designer gifts and home accessories to suit all tastes, all under one roof. WhereDidYouBuyThat.com is part of Grandis Ltd, an innovative company sourcing and supplying bespoke products for design-lovers in search of cool modern styling for the home and unique gifts Our brands: Addject, Areaware, Authentics, Black + Blum, Casa Bugatti, C-Quoi, Cycloc, Domestic, Eva Solo, Fatboy, FreshWest, Lexon, Love is Blind, Menu, Nigella Lawson, Normann Copenhagen, Oliver Hemming, Ovetto, Rude, Sonodesign, Studiomold, Trumpette, V&A Collection, Wild & Wolf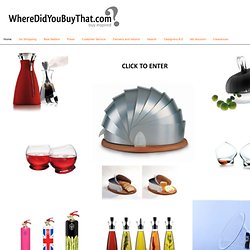 WhereDidYouBuyThat.com ⎜ Eva Solo, Normann Copenhagen, Casa Bugatti, Fatboy the Original, Freshwest, Sonodesign, Black & Blum, Ovetto
BODIE and FOU | Unique, inspiring concept store specialists of gorgeous, unusual home Accessories, art prints & posters, gifts, lighting, contemporary furniture, baby gifts & fashion
rockett st george
New Gadgets & Unusual Gifts, Birthday Presents, Toys & Gift ideas for Men, Women and Kids | UK Gadget Shop
Gift Hampers, Corporate Hampers & Christmas Hamper, Food Basket Corporate Gifts
When the likes of Coca Cola, The Four Seasons Hotel and BUPA need help with their Corporate Hampers, Corporate Goody bags and Corporate Gifts, here's what they do... Guaranteed to make their taste buds tingle, their mouths water and their stomachs growl for more, our Food Gifts, Hampers and Corporate Hampers are perfect if you want to impress, reward or treat friends, family, important clients or employees - and be remembered for it. Whisk Hampers is a gourmet gift company with a wonderful contemporary twist. Dedicated to sourcing gorgeous, delicious and mouth-watering products from across the globe for the food savvy, our collection of stylish hampers, bespoke hampers, corporate hampers and food gifts are the ideal choice for any food lover...