Sandwiches / Burgers / Bagels / Wraps
30 Pounds of Apples » Grilled Pesto Turkey Gouda Sandwich. I feel just a teensy bit ridiculous about this post.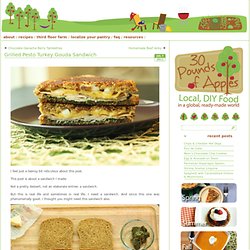 This post is about a sandwich I made. Not a pretty dessert, not an elaborate entree: a sandwich. But this is real life and sometimes in real life, I need a sandwich. And since this one was phenomenally good, I thought you might need this sandwich also. Recette de Bagels nature. Bagels. Dimanche 12 décembre 2010 7 12 /12 /Déc /2010 10:04 Adepte des Bagels voici une recette facile à faire et vous verrez que bagels seront bien meilleurs que ceux de chez P. le leader des surgelés qui vous les vend 2.40 € les 4, à ce prix là vous en avez 24 que vous pouvez congeler..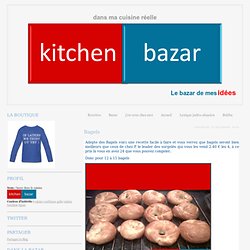 Donc pour 12 à 15 bagels Ingrédients. Recette des bagels américains fait maison, so tendance! Recette Wraps. Wrap au poulet & son Panna cotta. Il y a quelques mois, nous avons rencontré deux charmantes personnes de la société Maggi.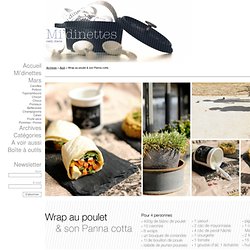 Nous avons eu un petit aperçu de l'historique de la société, elles nous ont présenté la large gamme de produits et une petite idée de partenariat est née entre nous. Nous ne voulions malgré tout pas que cet espace devienne un gros rendez-vous de sponsors et partenaires en tous genres, avec de la pub qui clignote dans tous les sens, ce serait prendre une direction que nous ne souhaitons pas du tout! Après réflexion, nous nous sommes dit qu'il serait très chouette de pouvoir vous proposer des idées simples à partir de produits basiques (comme un cube de bouillon par exemple).
Wraps aux nuggets. Wraps aux nuggets façon fast food!!!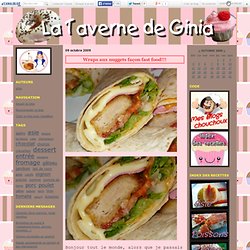 Bonjour tout le monde, alors que je passais devant un célèbre fast-food, j'ai vu l'affiche d'un wrap au poulet qui n'avait pas l'air mauvais, seul hic, je ne veux plus y remettre les pieds depuis ma dernière mésaventure (sur 5 big mac, 3 n'avaient pas de salade et 1 était privé de fromage!!). Je me suis donc dit, pourquoi ne pas essayer? Et voilà!! -2 grandes tortilla -2 tomates. Caramelized Apple Grilled Cheese Sandwich. A while ago, when inspired the the idea of an apple pie with cheddar cheese, I created the caramelized apple and cheddar omelette which was an amazing combination of sweet and savoury.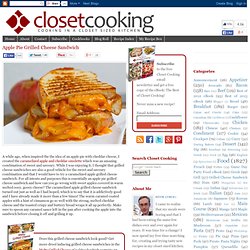 While I was enjoying it, I thought that grilled cheese sandwiches are also a good vehicle for the sweet and savoury combination and that I would have to try a caramelized apple grilled cheese sandwich. For all intents and purposes this is essentially an apple pie grilled cheese sandwich and how can you go wrong with sweet apples covered in warm melted ooey, gooey cheese? Grilled Cheese Social. Caprese Grilled Cheese Sandwich. I certainly have been into the fresh field ripened tomatoes lately!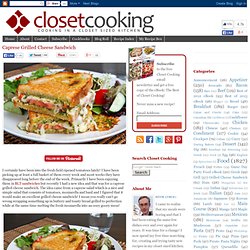 I have been picking up at least a full basket of them every week and most weeks they have disappeared long before the end of the week. Primarily I have been enjoying them in BLT sandwiches but recently I had a new idea and that was for a caprese grilled cheese sandwich. The idea came from a caprese salad which is a nice and simple salad that consists of tomatoes, mozzarella and basil and I figured that it would make an excellent grilled cheese sandwich! I mean you really can't go wrong wrapping something up in buttery and toasty bread grilled to perfection while at the same time melting the fresh mozzarella into an ooey gooey mess! Stromboli. I know lots of people are gearing up for the Super Bowl this weekend.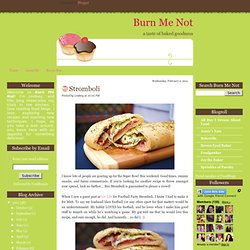 Good times, yummy snacks, and funny commercials. If you're looking for another recipe to throw amongst your spread, look no further... this Stromboli is guaranteed to please a crowd! When I saw a guest post at Liv Life for Football Party Stromboli, I knew I had to make it for Matt. To say my husband likes football (or any other sport for that matter) would be an understatement. My hubby LOVES his football, and he loves when I make him good stuff to munch on while he's watching a game. Recipe for Spicy Shrimp Sandwich with Chipotle Avocado Mayonnaise at Life.
I will be the first one to admit that I am not a huge sandwich person.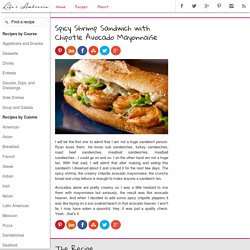 Ryan loves them. He loves sub sandwiches, turkey sandwiches, roast beef sandwiches, meatloaf sandwiches, meatball sandwiches…I could go on and on. I on the other hand am not a huge fan. With that said, I will admit that after making and eating this sandwich I dreamed about it and craved it for the next few days. Recette Bagel au saumon fumé. Recette Bagel.
---