Dinner
Jen's Buffalo Chicken Ring
Recette Risotto légumes meditérannéens mozzarella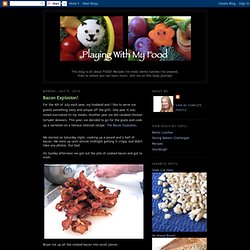 For the 4th of July each year, my husband and I like to serve our guests something tasty and unique off the grill. One year it was mead-marinated tri-tip steaks. Another year we did candied chicken teriyaki skewers. This year, we decided to go for the gusto and cook up a variation on a famous internet recipe: The Bacon Explosion. We started on Saturday night, cooking up a pound and a half of bacon.
Bacon Explosion!
Le risotto :Faire fondre l'oignon émincé sans coloration dans l'huile d'olive. Ajouter le riz et remuer pour le nacrer. Arroser avec le vin blanc jusqu'à évaporation puis ajouter le bouillon (gardé chaud) louche après louche en attendant qu'il soit évaporé pour rajouter la suivante.Au bout de 18 minutes, lier d'abord avec le parmesan puis hors du feu avec le beurre coupé en morceaux. Ajuster l'assaisonnement en sel et poivre et incorporer les dés de poivron rouge.
Brochettes de dinde pannées et son risotto aux poivrons rouges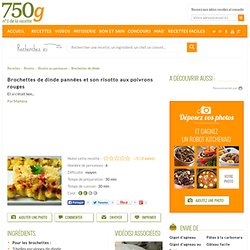 Parmigiano Panko Herb Encrusted Chicken Breasts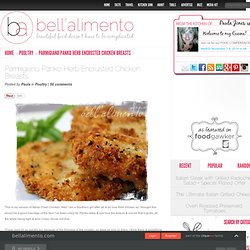 This is my version of Italian Fried Chicken. Well I am a Southern girl after all & do love fried chicken so I thought this would be a good marriage of the two! I've been crazy for Panko lately & just love the texture & crunch that it gives, all the while being light & airy! Crazy I know, but true. These cook oh so quickly too because of the thinness of the chicken, so keep an eye on them. I think there is something truly therapeutic about pounding things with a mallet & do it every time I can.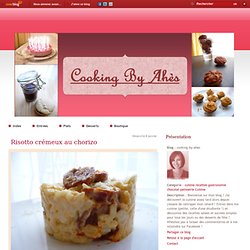 Risotto crémeux au chorizo - cooking-by-ahes
Dimanche 8 janvier 7 08 /01 /Jan 10:43 L'occasion de tester mon premier risotto et d'utiliser la fin du chorizo acheté pour la recette des cannelés au chorizo et au comté ! Une recette finalement très facile, il faut juste avoir le temps de rester devant le plat pendant presque 20 minutes ! Un premier risotto réussi !
Rizotto aux légumes croquants et gambas roties
Recette Jambon à la bière et au sirop d'érable à la mijoteuse
Recette Tartare de filet de boeuf, basilic et crumble au parmesan
Méchouia