Design / Arts
Jack Hughes Illustration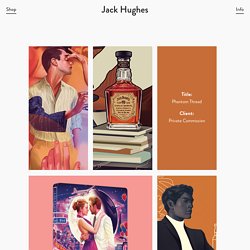 About Jack: Hello and thank you for visiting! I am a freelance illustrator based in London. If you'd like to discuss a commission or just want to say hello please do get in touch via email!
Guideline Colour
Inspiration is all around us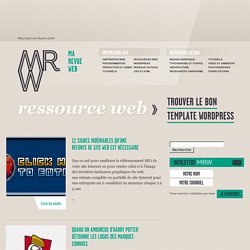 Cette semaine et jusqu'à la fin du mois, MaRevueWeb relaie le concours de design de charity : water afin de rendre l'eau potable accessible à tous ceux qui en ont le plus besoin. Avec ce concours, charity: water recherche des designs créatifs et innovants sur le sujet de la crise de l'eau dans le monde. Le design gagnant sera choisi par charity: water et son design servira de graphisme pour un t-shirt. Toutes les conditions du concours sont décrites ci-dessous. Participez avant le : July 31, 2012 Votez : August 1, 2012 – August 7, 2012
NaOmi Bar
Feb 16 2011 When applying for a job, a designer's résumé is of utmost importance. This is precisely what should be attention-grabbing and creatively designed. This portrays the level of creativity and also aids in standing out from the rest who also happen to be applying for the same position. We hope that these creative résumés will inspire and encourage you to think out of the box and redesign your application papers with sucess. To help you get ready for your job interview, you can read here to find out how to prepare well.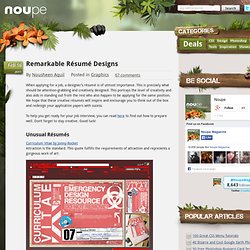 À une époque ancienne de l'histoire de la lettre, le joli nom de "Nompareille" désignait une taille de caractère (que l'on définit désormais par sa mesure en point, le corps). C'est le nom qu'a choisi Matthieu Cortat pour le site qui diffuse ses productions typographiques. Né en 1982 en Suisse, Matthieu Cortat est dessinateur de caractères et graphiste. Diplômé de l'École d'Art de Lausanne (ECAL) et de l'Atelier national de Recherche typographique (ANRT) de Nancy, installé à Lyon, il partage son temps entre le dessin de lettre, un travail de typographe pour divers éditeurs, et des interventions au Musée de l'imprimerie de Lyon. 17 créations au catalogue, 7 de labeur, 10 de titrage… gros plan sur quelques-uns d'entre eux.Le site est très bien fait, agréable à consulter, avec de multiples possibilités de découverte ; chaque caractère est "raconté" et remis en situation.