Design / Arts
Jack Hughes Illustration. Guideline Colour.
Behance. Photoshop / Illustrator. INDESIGN. Images/Photos. Fonts. FFFFOUND! Inspiration is all around us. Ma Revue Web. NaOmi Bar. La cuisine du graphiste. Noupe Design Blog.
Feb 16 2011 When applying for a job, a designer's résumé is of utmost importance.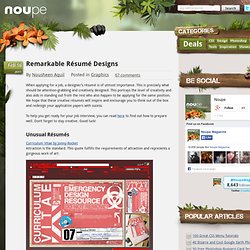 This is precisely what should be attention-grabbing and creatively designed. This portrays the level of creativity and also aids in standing out from the rest who also happen to be applying for the same position. We hope that these creative résumés will inspire and encourage you to think out of the box and redesign your application papers with sucess. To help you get ready for your job interview, you can read here to find out how to prepare well. A selection of graphic projects. WhatTheFont! Typeverything. Typomanie.
---