Marimouma
hoetker.faculty.asu.edu/resources/research/Hoetker_2006_SMJ.pdf
Innovation en pédagogie
§ Les dirigeants des organisations innovantes du 21e siècle sont très ouverts au changement. § Ils voient le changement comme une réalité qui évolue en permanence et qui s'accentue de plus en plus rapidement avec le temps. § Ils souhaitent et anticipent le changement avec enthousiasme parce qu'il est source d'opportunités. § Ils comprennent que pour développer leur entreprise et innover, ils doivent prendre des risques, mener des expériences en s'aventurant dans des territoires inconnus et s'exposer à des difficultés qui pourraient affecter sa rentabilité à court et à long terme. § Ils cherchent constamment à évaluer la capacité d'innovation de leur organisation, notamment au niveau de la R&D, de l'acquisition de technologies de pointe et de la mise en place de nouvelles pratiques au niveau de sa gestion et de ses opérations.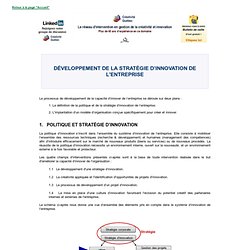 LE DÉVELOPPEMENT D'UNE POLITIQUE ET D'UNE STRATÉGIE D'INNOVATION
To compete, companies develop a set of core competencies, building what it believes to be a unique business model that delivers value to its customers. But in modular organization setup, these companies also continuously develop and maintain new competencies that can be completely different from the set of competencies that it have right now. The advantage; to use these new competencies to tackle new, sudden challenges in the business climate or to develop a new business model and to better manage the often sharp, painful effect of organizational restructuring.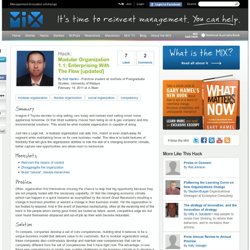 Modular Organization 1.1; Enterprising With The Flow [updated]