Cuisine
The decorated cookie. "Cute Food For Kids" ?
Bentos. Sprinkle Bakes. One sweet and eye-pleasing treat that has been on my baking radar is Blue Velvet cake.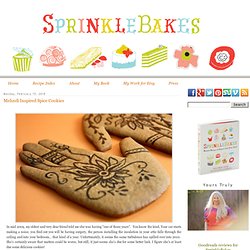 I've been seeing beautiful versions online, and I recently spotted Blue Velvet cupcakes at my favorite local bakery. I love the idea of a striking blue cake, but many recipes yield a misleading result. Some cakes are teal, or more turquoise than blue. Upon viewing my first completed batch, I thought "green around the gills" -which is an idiom I use when someone looks ill.
---