E-commerce
フランス雑貨・アンティーク雑貨等のオンラインショップ 通販 Billet[ビエ]
Scottish Gifts from Papa Stour.
Scandinavian design - Buy home interior decor. Worldwide shippin
プレイタイム 東京 - Playtime Tokyo, the international trade fair dedicat
博品館
子供服サイト jette(イエッテ)
Family Friendly Events in Japan - BABY LOVES DISCO JAPAN
Our deepest condolences to all the victims of Tohoku Earthquake. BLDJ is working on resuming events in a safe environment -- for the whole family to enjoy. BLD x Carter's Japan:Carter's Carnival Weekend!schedule updated.
e-Shop Kinna
SDI Inc.-SASAKI DESIGN INTERNATIONAL Inc./佐々木デザインインターナショナル株式会社
Mibo Lighting and Homewares
Samantha Robinson * handmade porcelain
Boys and Girls kids jeans, childrens denim in many styles and ra
Miss Haidee — Home
Stella Cove:SodaPop
Cecilie Ellefsen - Blog
CHIC&FATAL
Pearltrees @LeWeb
Le creative sweatshop
.:Instituto Meio:.
Peggy was created out of a need for affordable, easy wearing but pretty baby girl's (6 months - 4 years) clothes. The ranges feature vintage inspired prints in beautifully complementing colours on woven cotton. Image 1 of 1 Enter Fullscreen Exit Fullscreen Peggy was named after the Melbourne designer's grandmother, and aims to keep an air of 'old fashioned whimsicality' in its gorgeous designs.
Index
ReForm School: Library
Google Translate
Popline
ETHIC GARDEN, Jeux, jouets éthiques et accessoires bébé bio, art
Let's face it. A kid's got to have style these days. That's why Target has a super fun collection of clothing and accessories for kids. We've got awesome kid's furniture, bedding and bath accessories to outfit their rooms too. No one has more fun dressing than girls.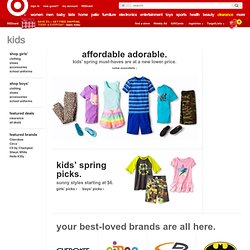 Kids