E-commerce
フランス雑貨・アンティーク雑貨等のオンラインショップ 通販 Billet[ビエ]
Scottish Gifts from Papa Stour.
Papa Stour is an inspiring showcase of Scotland's best designers and artists, curated with a keen eye to offer an exciting collection of contemporary craft and design. The products are all made in Scotland - crafted and handmade to order or produced in small batches and we are dedicated to supporting the artists we represent as some of Scotland's brightest talent. Shipping available Worldwide from Scotland. Papa Stour is an "online retailer revolutionising the way we kit out our homes" The Sunday Time Style section 13/01/2013 Small Business Sunday #SBS winners as chosen by Theo Paphitis, 27/08/12 One of "the Top 10 Online Interiors Shops" - The Sunday Times, August 2012 "Scotland's coolest online store Papa Stour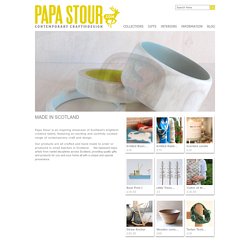 Scandinavian design - Buy home interior decor. Worldwide shippin
プレイタイム 東京 - Playtime Tokyo, the international trade fair dedicat
博品館
子供服サイト jette(イエッテ)
Family Friendly Events in Japan - BABY LOVES DISCO JAPAN
Our deepest condolences to all the victims of Tohoku Earthquake. BLDJ is working on resuming events in a safe environment -- for the whole family to enjoy. BLD x Carter's Japan:Carter's Carnival Weekend!schedule updated.
e-Shop Kinna
Cookie Mag: the Stylish Parenting Magazine for the New Mom: Home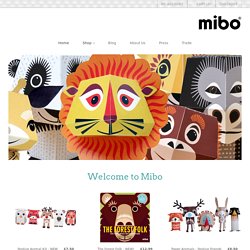 Spring babies No person, whatever their age, should have their outfit compromised by drool. With this in mind we've collaborated with our favourite French cousins, Coq en Pate, to create a range of organic cotton baby bodysuits which come complete with matching... Free downloadable D.I.Y.
Mibo Lighting and Homewares
Samantha Robinson * handmade porcelain
Boys and Girls kids jeans, childrens denim in many styles and ra
Miss Haidee — Home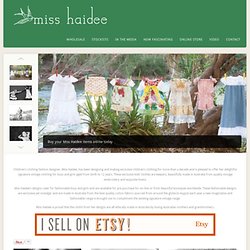 Children's clothing fashion designer, Miss Haidee, has been designing and making exclusive children's clothing for more than a decade and is pleased to offer her delightful signature vintage clothing for boys and girls aged from birth to 12 years. These exclusive kids' clothes are keepers, beautifully made in Australia from quality vintage embroidery and exquisite linens. Miss Haidee's designs cater for fashionable boys and girls and are available for pre purchase for on-line or from beautiful boutiques worldwide. These fashionable designs are exclusive yet nostalgic and are made in Australia from the best quality cotton fabrics sourced from around the globe.
Cecilie Ellefsen - Blog
CHIC&FATAL
Como cuando éramos más jóvenes, y estudiábamos ir "a recoger la fresa" a Aranjuez o a Alemania, yo me he venido a Francia a "recoger" un trabajo hace ya… ni más ni menos… que 14 días. Sé que no es tiempo suficiente para hacer resúmenes ni para tener claros los conceptos más básicos de la convivencia en París (Francia) pero la verdad es que, de momento, la respuesta siempre es "Bien" (con la boca grande. No como aquí dicen todo… con la boca pequeña). Os contaré que he tenido una semana bastante intensa.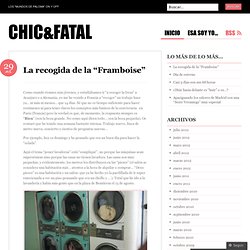 Pearltrees @LeWeb
Le creative sweatshop
.:Instituto Meio:.
Peggy Summer is on SALE now! Enter Summer13 when you check out for 50% off all Peggy Summer clothing! Peggy was named after the Melbourne designer's grandmother, and aims to keep an air of 'old fashioned whimsicality' in its gorgeous designs. The range features dresses, pants, nappy covers and hats - all of which can be mixed and matched for a quirky boho effect. Peggy is stocked in high end childrens and lifestyle boutiques.
Index
ReForm School: Library
Google Translate
Popline
ETHIC GARDEN, Jeux, jouets éthiques et accessoires bébé bio, art
Give your child the best in everything, from clothes to bedroom fashions. Target has all you need to keep your toddler, preschooler, school-goer, tween or teen happy. Update your child's wardrobe with the latest styles from our collections. Little Ms. Pretty or Mr.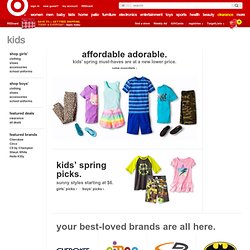 Kids