3D's
3D Plug-Ins - Maya Plugins Added By: katrin schmid Added: 15-05-2011 Rating: Visits: 795 Voice-O-Matic (Maya Edition) Voice-O-Matic (Maya Edition) is a powerful, easy-to-use plug-in which automates the lip synchronization process for your animated CG characters... Added By: Marie-France Caouette Added: 17-06-2010 Rating: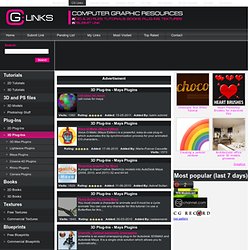 3D Plug-Ins :: Maya Plugins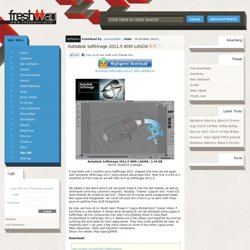 It has been just 5 months since Softimage 2011 shipped and here we are again with Autodesk Softimage 2011 Subscription Advantage Pack. Now that is a bit of a mouthful so from now on we will refer to it as Softimage 2011.5 We added a few items which did not quite make it into the last release, as well as addressed some key cutomers requests. Notably: "Stereo" support and "make ICE more friendly for artists to get into".
Autodesk Softimage 2011.5 With LAGOA Rapidshare Downloads - Freshwap.Net
Autodesk Softimage XSI Plug-ins
Maya Online Help: Learning Resources
SimplyMaya - Resources Download Maya Plugins, Maya Shaders, Maya Textures, Maya 3D Models, Mel Scripts, Maya Rigs, Maya Scene Files
Les plus belles textures du Web
Facial Expressions, Colours and Basic Emotions