ONU Seisme Haiti Janvier 2010
MINUSTAH UNstabilization Mission Haiti. Restoring a secure and stable environment .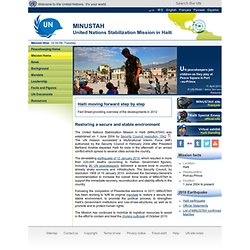 The UN mission succeeded a Multinational Interim Force (MIF) authorized by the Security Council in February 2004 after President Bertrand Aristide departed Haiti for exile in the aftermath of an armed conflict which spread to several cities across the country. The devastating earthquake of 12 January 2010, which resulted in more than 220,000 deaths (according to Haitian Government figures), including 96 UN peacekeepers, delivered a severe blow to country's already shaky economy and infrastructure. The Security Council, by resolution 1908 of 19 January 2010, endorsed the Secretary-General's recommendation to increase the overall force levels of MINUSTAH to support the immediate recovery, reconstruction and stability efforts in the country.
†† 16 April 2010 Deputy-Secretary General Migiro visits Haiti The main priorities for humanitarian assistance in Haiti remain: Emergency Shelter, Site Management and Sanitation.The Deputy Secretary-General Asha-Rose Migiro, visited Haiti three months to the day after the earthquake.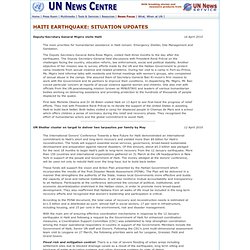 The Deputy Secretary-General held discussions with President René Préval on the challenges facing the country, education reform, law enforcement, social and political stability. News Centre | News Focus: Haiti earthquake. UnitedNations Haiti.
---