Webdoc
Comment le cancer du sein m'a changée. Comment le cancer du sein m'a changée. Petites Mains, chronique d'une économie parallèle. Interactivité des webdocumentaires | WEBDOCU.fr. Cet article est le deuxième article d'une série intitulée: « Un nouveau dispositif d'information sur Internet », publiée sur notre blog « WEBDOCUS à l'Etude ».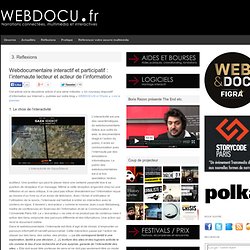 Lire le premier. 1. My Story, My Goal. This is My Goal is a collection of seven stories about seven people from seven African and Asian countries.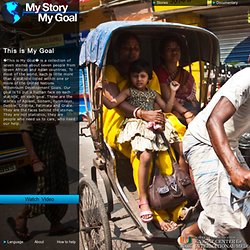 To most of the world, each is little more than a statistic listed within one or more of the United Nations Millennium Development Goals. Our goal is to put a human face on each statistic, on each goal. These are the stories of Apiwat, Sonam, Funmilayo, Debbie, Cristina, Fatimata and Grace. They are the faces behind the stories. They are not statistics; they are people who need us to care, who need our help. Les arbres du Kilimandjaro. Webdoc - Paris.fr. Les Yeux Dans La Banlieue. Ligne4. Breves de trottoirs- plateforme webdocumentaire. Un webdocumentaire sur l'industrie de la prison. À voir. Rapa Nui / About. Piw!'s. La différence entre (Web)documentaire et (Web)reportage.
Olivier Crou, notre blogueur En ce début d'année, le webdocumentaire est bien au coeur des préoccupations des grands médias, et l'offre s'enrichit chaque jour. Pour essayer de cerner la différence entre webdocumentaire et webreportage, il nous faut revenir au cinéma documentaire traditionnel. Dans les prochains articles, je tenterai d'analyser ce que peut le webdocumentaire par rapport au documentaire à la narration linéaire. Quel modèle économique pour les webdocumentaires? - Communauté M. Un archéologue au Congo.
---